It can happen to anyone:  You turn on your computer and log in, only to find pop-up advertisements, search bars, a changed desktop background, and many screens warning that you may be infected with a virus.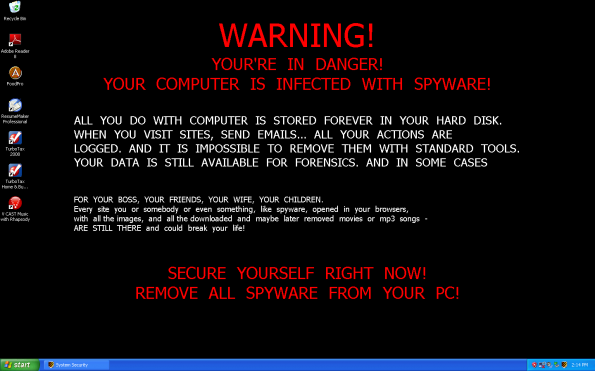 One sign that you have been infected with a virus (or what can be referred to as malware) is the sudden appearance of new "security" software, such as AntiVirus 2009, Total Security Center, and System Security.  These programs are not valid anti-virus software, and will often warn you that your system is infected and then direct you to their site and request payment for running scans on your system.  It is important that you do not pay for these "services".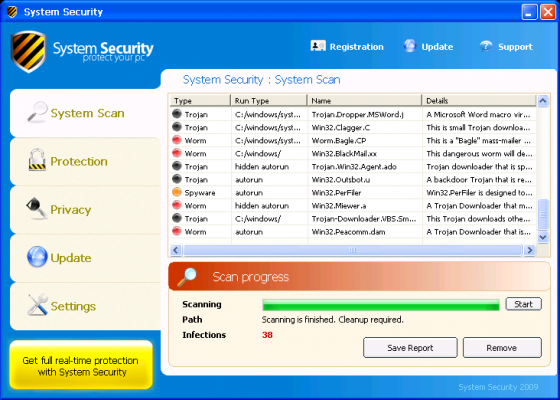 Depending on the severity of the virus infection, the usability of your computer may range from moderately usable with moderate pop-ups, to random restarts, system errors, and blue screens of death.
Although the situation may seem dire, there is hope.  Malwarebytes is a free program that swiftly remove virus and malware infections.
Using Malwarebytes
Start by downloading the free version of Malwarebytes.  Before finishing the installation, be sure that the check boxes for "Updating Malwarebytes' Anti-Malware" and "Launching Malwarebytes' Anti-Malware" are checked.
When the program has launched, select Perform full scan to scan your entire hard drive. and click Scan.  The full scan will take quite a bit of time, so if you're in a hurry select the Perform quick scan option.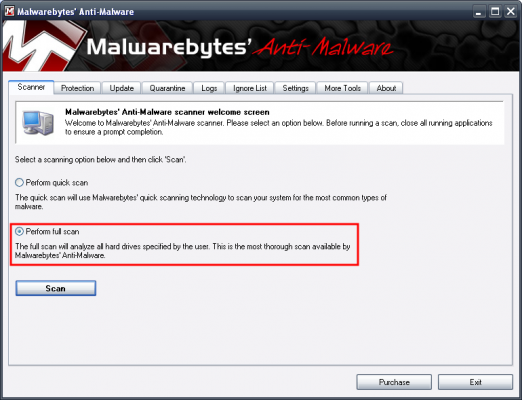 On the next screen, select the drives you wish to let Malwarebytes scan.  Although the default C: drive may be sufficient, I would recommend scanning all attached drives.  Click Start Scan to start the virus scan.  Depending on the size of your drives and the amount of data stored on them, a full scan may take well over an hour.
When the scan has completed, the results will be shown.  Click Show Results and click Remove Selected Items to remove the virus infection from your system.  Depending on the virus, it may be necessary to reboot your system to completely remove some items.

Tips for improving scan performance
Run the scan in Safe mode
Many times a virus will embed itself into a running system file.  Malwarebytes will not always be able to remove virus items that are embedded in running processes.  The easiest way to reduce the number of running processes is to boot into Windows Safe mode.  To enter Windows Safe mode, repeatedly press the F8 key when first booting your computer.
Update software before each use
It is important that you update the virus database before you perform a scan.  Click the Update tab on the Malwarebytes main window and click Check for Updates.  After the update has been finished, you can then continue with the scan as shown above.
Multiple scans
Although Malwarebytes may be successful, it may be possible that not all parts of the virus were removed during the scan.  It can be helpful to perform a second scan of the system to verify that all items were removed.
Conclusion
Although it is important to take steps to prevent a virus infection, Malwarebytes can be a useful program for removing malicious software.  Your first defense to preventing a virus infection is to have up-to-date virus software.  A free anti-virus solution is Microsoft Security Essentials.  Above all, smart internet browsing will be the best way to avoid malware.