The scenario: You just reinstalled Windows on your computer and are having a difficult time finding a driver for an obscurely named device.  You have checked the manufacturer's website and have tried several different drivers, all with no luck finding the correct the device driver.  Unknown Devices is a program that will assist with searching for difficult to find device drivers.
Using Unknown Devices
Download and extract Unknown Devices from the program's website.  Open the newly created Unknown Devices folder and run the Unknown Devices executable.  Once the program has loaded, you will see a list of the hardware devices that are currently attached to the system.  If any device drivers are missing, they will be highlighted in orange and have a question mark next to them, as shown below.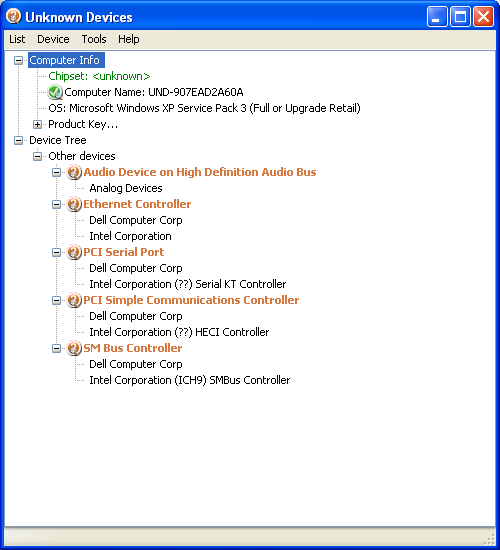 When you find an unknown device on your system, right clicking it will allow you to perform an internet search for the selected device.
Right clicking an unknown device and selecting Device Details will provide much more information regarding the hardware.  This detailed information can be helpful in finding the correct device driver for your hardware.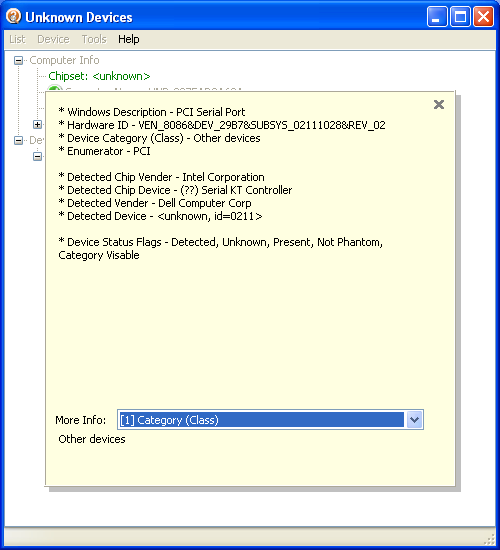 When all device drivers have been installed, Unknown Devices will show all installed devices.  Clicking the + next to the hardware will show detailed information for the installed device.
What other methods have you used to find unknown device drivers?  Let us know by commenting below.