As your computer becomes loaded with software, your desktop may become cluttered with shortcuts and also difficult to navigate through the Start Menu.  Here is an example of what an out-of-control Start Menu may look like: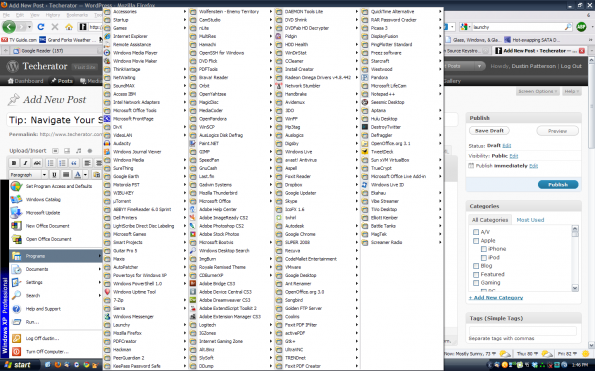 Launchy is an open source keystroke launcher for Windows and Linux that allows you to open documents, folders, bookmarks, installed software, and system utilities with a quick keyboard keystroke combination.
Once you have downloaded and installed Launchy, you can begin using it right away by hitting Alt+Space on your keyboard.  In the pop-up window, begin typing the name of the program you wish to launch.  Once Launchy has auto-completed the name, you can hit Enter and the selected program will start.

Launchy is very customizable, allowing the user to specify what items are indexed, what locations are indexed, how often they are indexed, along with different skin choices, plug-ins and many other settings.  To access the settings, bring Launchy forward with Alt+Space, right click the dialog and select Options.
Launchy also features a set of plug-ins that extend the features of the program.  A couple of my favorite Launchy commands are shown below.
Perform a Google search
A Google search is performed in the default web browser of the text entered after the Tab key is pressed, as shown below.
Google (tab) techerator

Open a URL
The URL entered after the tab is opened in the web browser specified, Firefox in this case.
firefox (tab) techerator.com

Display weather information
Local weather information will be displayed from Weather.com for the ZIP code entered.
weather (tab) 90210

Run command line commands
instead of going to Start -> Run -> cmd, simply enter cmd (tab) and the command you wish to run.
cmd (tab) ipconfig

Another handy feature in Launchy is the auto-completion of commands.  For the examples shown above, instead of entering firefox into the Launchy window, I can simply enter fire(tab) and it will auto-complete as Mozilla Firefox.
A complete list of commands that work within the Launchy window is available here.
I have become very attached to Launchy's functionality and often find myself habitually pressing Alt+Space on any computer I use, at times finding to my dismay that Launchy is not installed.  I highly recommend this program to everyone.