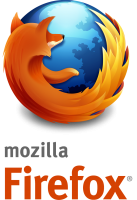 It can take quite a while for updated versions of software to make it to Ubuntu's illustrious software repository (the software must be customized and approved before it can be listed) – which has left Firefox users hanging for months waiting for it to be updated to version 3.5+.  Mozilla doesn't offer the easy-to-use .deb installer for Firefox, so in this guide I'll show you how to use Ubuntuzilla to update Firefox without Ubuntu's repository.
Updating Firefox with Ubuntuzilla
Step 1: Download the correct version of the .deb installer from Ubuntuzilla's download page.  Once downloaded, install it by double clicking the .deb file and follow the instructions.
Step 2: Close Firefox completely.  This may present some problems since you're likely reading this guide from within Firefox, so write down the next steps or print this page.
Step 3: Start Ubuntuzilla by opening Terminal (typically under Applications –> Accessories –> Terminal or press ALT+F2 and type gnome-terminal.  Type the following command to start the program:
ubuntuzilla.py -a install -p firefox
Step 4: Ubuntuzilla will ask you to confirm the correct version of Firefox, choose a language (US English users will want to use option 14), confirm your language choice, and enter your password before installing.  Once you have completed those steps, Ubuntuzilla will backup your current settings and begin downloading and installing the newest version of Firefox.
Step 5: If everything went well, you should see The new Firefox version X.X.X (fill in the blanks) has been installed successfully. Before finishing, Ubuntuzilla will give you the option let it automatically check for updates to Firefox and notify when they are available.
The newest version of Firefox will now be installed – it can be launched from your Applications menu or by typing firefox in Terminal.
Manually Updating Firefox Later
If a new version of Firefox is released and you want to update without performing a full reinstallation, you can use Firefox's built-in update feature to streamline the process.
Step 1: Close Firefox completely.
Step 2: Enter one of the following commands in Terminal to launch Firefox as a root user:
In Gnome:  gksudo firefox &
In KDE:  kdesu firefox &
Make sure to type gksudo and not just sudo! Sudo will mess up your profile permissions, according to Ubuntuzilla's wiki page.
Step 3: In Firefox, click Help –> Check for Updates.  If an update is available, it will be downloaded.  Click Restart Firefox Now when prompted.  Firefox will restart as root again, so close and re-open it and you are finished.