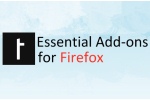 In the second installment of Techerator's Essential Add-ons for Firefox series, I'll be covering add-ons that help unleash the social maven deep inside of you.  Whether you're the core of your internet social circle or just want to use your email and Twitter better, this guide will give you the tools to use your browser to its full potential.
Shareaholic is the best add-on I've found to connect you to all your social networks at once.  Shareaholic allows you to send links to Gmail, Facebook, Twitter, Digg, and over 50 other social networks (with the option to disable sites you don't use).  This add-on can be set to display in your browser toolbar, your URL bar (my preference), and your right click menu, which keeps your networks just a click away.
After installing Shareaholic, click the green Shareaholic button in your browser's toolbar and select 'Manage Your Services' to get started.  You can also control where Shareaholic is displayed by clicking the 'Appearance' tab at the top of the Services window.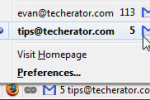 If you use Gmail, Google's free email service, Gmail Manager provides great access to multiple accounts simultaneously.  Even if you just have one Gmail account, Gmail Manager alerts when you receive new messages and lets you preview your inbox (by hovering your mouse over the statusbar icon).
If you only need notifications when you receive new email, check out the Gmail Notifier add-on.
Another add-on for Gmail users, Better Gmail 2 is a fantastic collection of former Greasemonkey scripts combined into a single Firefox add-on.  Better Gmail 2 provides features that Gmail probably should provide (and many times Gmail has adopted features used in the add-on).
The most recent version of Better Gmail 2 lets you display your unread message count in Gmail's favicon, highlights message rows on mouseover, displays icons for specific email attachments (like images or Word documents), and adds Folders4Gmail (which lets you create hierarchical labels which behave like the folders shown in the picture).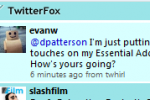 TwitterFox gives you full access to your Twitter feed right in your browser's statusbar.  This add-on features notifications of new tweets (which can be disabled for less distractions), support for multiple accounts, two color schemes, and typical Twitter functionality like replies and retweets.  I use TwitterFox the most when I'm away from my home computer (in lieu of installing a full Twitter client), and it provides a great way to stay connected to your network.
StumbleUpon helps you discover new and interesting websites based on your personal tastes, and is a great way to ensure you're never bored while using Firefox ever again.  After picking categories that interest you (I chose topics such as "video games", "internet tools", and "science/tech") and creating an account, you can click the "Stumble!" button in your browser toolbar to be instantly taken to a website that fits the criteria you selected.
StumbleUpon lets you vote whether you liked or disliked the site (using the thumbs up/down controls in your toolbar) and lets you share your discoveries with your friends.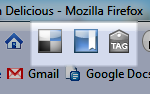 Delicious (formerly del.icio.us) is a free service that lets you synchronize and share your bookmarks online, making them accessible anywhere you have an internet connection.  The Delicious add-on for Firefox gives you access to your bookmarks and lets you easily share, tag, and bookmark new websites from within your browser.  If you're new to Delicious, the add-on lets you import your current Firefox bookmarks to get you started.
If you like tabs as much as we do, then you've probably found yourself with dozens of tabs open and not enough time to view them all.  Taboo lets you save a list of your currently open tabs (with screenshots of each site you have open) so you can easily access them later.  This add-on also features a search feature which helps you quickly find your saved tabs.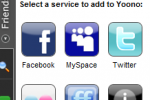 Yoono is the ultimate add-on for a true digital socialite.  It combines almost every social network and instant messenging service in your Firefox sidebar, letting you set your status and share links across Facebook, Myspace, Twitter, and many other services all at once.  Yoono also includes a website discovery feature (very similar to StumbleUpon), so you're almost guaranteed to be kept busy with this add-on.
Yoono does duplicate functionality of several add-ons featured in this guide, so you may want to disable them if you suddenly find yourself being overwhelmed by social networks.

If you'd like to install all of the add-ons in the Techerator Essential Add-ons for Firefox #2: Socialite Edition pack, check out our Firefox Collections site.

For more great addons, check out Essential Add-ons for Firefox #1: Power User Edition.
Do you have any add-ons for the socially-centered that we missed?  Share them with us in the comments!