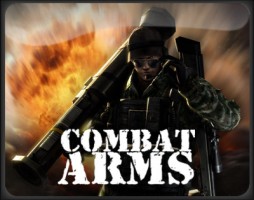 Combat Arms is a free online first-person shooter developed by Nexon.  Combat Arms is entirely multiplayer (with no single player mode), and contains multiple game modes and levels.  Players can earn experience and in-game money (known as GP) by completing matches, allowing them to rank up and buy new weapons and equipment.
Players can purchase armor, uniforms, and backpacks for their characters which are persistent and follow you through the game.  Each new piece of equipment adds a level of personalization to the character, making it unique for the player.  Over 100 real-world weapons are available in Combat Arms and each weapon is customizable to add larger clips, silencers, etc.
Publisher:
Nexon America Inc.
Genre:
Action
Number of Players:
1
Release Date:
July 11, 2008
ESRB Rating:
T
Platform:
PC
Combat Arms has a very gentle learning curve and is beginner friendly.  The game includes ranked matches (meaning experienced players only fight other experienced players), so beginners won't be trampled by long term players.  Combat Arms also supports clan play, making it easy for friends to communicate and coordinate while playing together.
While the game is an enjoyable first-person shooter, it does have some drawbacks.  Repetitive gameplay is the biggest problem, mainly due to the limited number of maps available to play.  To provide more variety, Nexon has recently released  Quarantine Mode (aka Zombie Mode), which allows players to go head-to-head against an unstoppable horde of zombies in a quest for survival.  Players can also play as the zombies, and the goal is to infect as many humans as possible.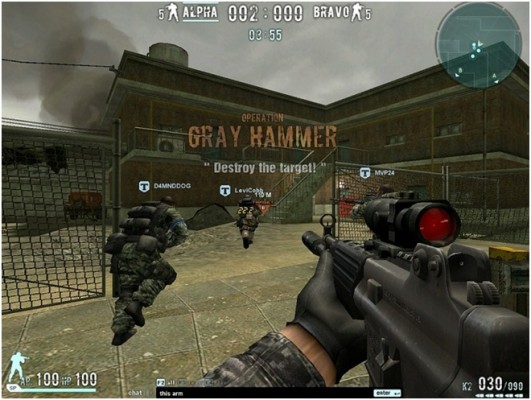 Visual effects continue to improve with every update to the game.  No matter the size of the match (which supports up to 15 players), the game provides fast and lag-free action.
Pros:
Fantastic graphics
Intense first-person action
Well designed maps
FREE
Cons:
Very similar to Counter-Strike
No vehicles
Repetitive gameplay
Bottom Line:
If you are a fan of high action first-person shooters, this is the game for you.  You can't beat the price tag!
Final Score (out of 10):
8.9