I feel like the guy who showed up late to a really good party.  Google Docs has been around for quite awhile now, but it wasn't until last week that I actually tried it for the first time and I can't believe I had been missing out on this fantastic service.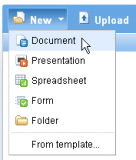 Google Docs is a web-based office suite that contains applications for word processing, spreadsheets, form creation, and presentations that can easily be shared anywhere in the world.  No software (besides a browser) is required to use Google Docs, and since your files are stored online they can be opened anywhere you can access the internet.
If you don't have an internet connection, Google Docs is available offline using Google Gears.  Simply click the Offline link at the top of Google Docs, install Google Gears, and you will be able to access your documents offline.  There are a few limitations, however: word processing documents can be viewed and edited offline, but spreadsheets and presentations will be read-only.  Obviously, group collaboration and sharing features are unavailable offline as well.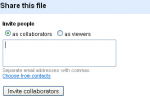 Any document in Google Docs can be shared with anybody around the world with easy sharing features.  All you have to do is select a file and click the Share button, then send it to any email address.  You can choose whether the recipient can modify or only view the document you are sharing.
Another landmark feature of Google Docs is the ability for a group to view and edit documents simultaneously in real-time.  Documents keep a revision history so you can see who edited a document, when it was modified, and what was changed.  Unlike editing a document shared on a network drive, you will never have any file ownership conflicts or mulitple copies of the same file.

Most importantly, you can open and save documents in most popular document formats.  Google Docs supports DOC, HTML, TXT, RTF, XLS, ODS, CSV, TSV, TSB, PPT, PPS – and as of recently the Office 2007 formats DOCX and XLSX.

While Google Docs may not be a complete replacement for desktop office suites such as Microsoft Office or OpenOffice.org, it does provide a surprisingly robust way to view, edit, and share your files worldwide.  Unlike some web-based applications, Google Docs supports drag-and-drop as well as right-click functionality in certain areas which makes it just as intuitive as desktop software.
Google Docs is a free (account creation required) web-based office suite.  Check it out online, view the official tour, or watch the video below.