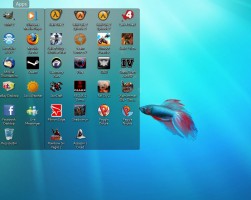 How many times have you had projects, temporary Word documents, PowerPoint presentations, or other "junk-yet-necessary" items on your computer's desktop combined with shortcuts for Firefox, Messenger, Windows Media, or iTunes?  Why is it so hard to keep organized each one of these items? Many people search through their desktops covered with this smorgasbord of different files and applications every day and wish there was an easier way to keep their stuff neatly tucked away.
Fences by Stardock provides a solution for your messy desktop. Right now it's an open Community-Preview Beta that will expire on August 31st, 2009. It will likely have a price tag after the Beta, but I would probably be willing to dish out a few bucks for the final product. It's an extremely simple solution to de-cluttering your desktop and showing off the wallpaper that is typically buried beneath your desktop icons.
Fences runs quietly in the background using virtually no resources, and setting it up is easy. After installing and running the program, find a clear space on your desktop and draw a rectangle while holding down your right mouse button. A dialog box will appear which says "Create new Fence here". Click it and give it a name. Then just drag your appropriate icons into the fence, and resize or reshape the fence to your liking.
I have two Fences on my desktop right now, with one containing strictly game shortcuts and the other containing application shortcuts. To display the name of your Fence, simply hover your mouse over it. You can choose to show the names of the fences constantly or not at all via the simple Customization tab in the program's editor. You can also choose things such as color of the fence, show or hide a fence outline, and fade in/out scrollbars if you have them as part of your fence. Basic customization can even be done just by right-clicking within a fence, without needing to open up the editor.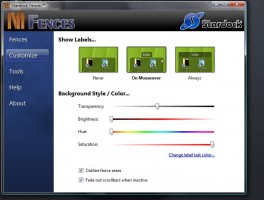 You can lock, delete, and exclude fences from the quick-hide feature.  The quick-hide feature is what I mentioned before about showing off your wallpaper.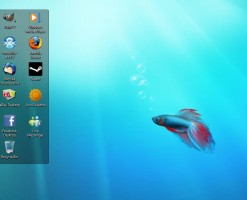 You can have your fences set to disappear just by double clicking an open area of the desktop when they're not in use, which makes the organization potential even better.
Fences provides you with a way to separate work from play (and everything in between) on your cluttered desktop.  Have any other desktop organization tips? Leave a comment below and share it.