Update: We've published a new edition of this article for the updated version of Facebook.  Check that out instead.
Facebook has made some interface changes lately which have caused some frustration with its core users.  Most recently, they've removed the ability to exclusively view status updates on the Friends tab, which leaves you with only the "full firehose" of the homepage's News Feed.  Since the News Feed displays all recent activity, my homepage has become completely inundated with quiz results and "Top 5" lists which completely obfuscate my friend's status updates.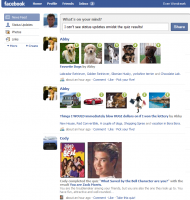 Since the only thing I really care about on Facebook is what my friends are up to, I found a simple way to display only status updates on the homepage by default.  To do this, navigate to your Facebook homepage and look for the Status Updates widget in the top left corner.  If the widget isn't visible, click the "More" button and look for it in the expanded list.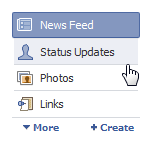 Click and drag the Status Updates widget above the News Feed widget, which will cause it to be enabled by default.  From now on, your Facebook homepage will only display your friends status updates.
Have any tips that have improved your Facebook experience?  Share them in the comments!