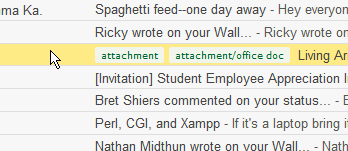 Firefox Only:  Although Gmail's labels can be extremely useful for organizing and increasing your email productivity, they can become quite a nuisance if you have several labels applied to a message.  When this happens, the labels take over the space that usually displays the message preview, and makes your inbox start to look cluttered and disorganized.
You can automatically hide Gmail's labels (until you move your mouse over the message) by adding installing the Hide Labels in Message Row script for Greasemonkey. [What's Greasemonkey? Check out our guide.]
Have any Greasemonkey scripts for Gmail you enjoy?  Share them in the comments.
UPDATE 04/23/09: The Better Gmail 2 add-on for Firefox now has built-in support for the Hide Labels in Message Row script.