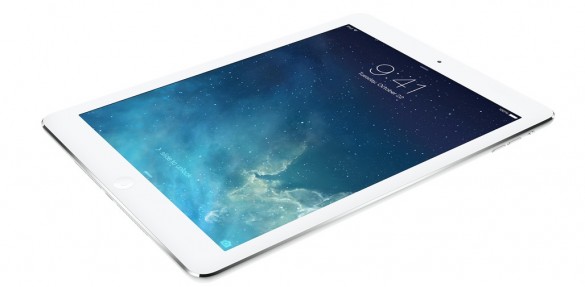 When Tim Cook and company unveiled the new iPad Air a few weeks ago, I wanted one. The new A7 chip and the processing boost the Air was getting made it a very tempting device. Who wouldn't want a faster iPad? I currently have the third generation iPad, so I figured this new model would leave mine in the dust. Imagine how great it would be in the art programs I have on the iPad (that I never use). I would be able to do so much more with it.
Not only is the iPad Air faster, but it is light and smaller too. Two more tempting features. While my iPad is light when compared to a laptop, lighter would really be nicer.
As much as I wanted the iPad Air I did not order one on launch day. If I had the extra money to get one, I might have made the purchase. However, the extra money is not lying around right now, and I am actually glad I didn't order one after making a trip to the Apple Store earlier today and having the opportunity to try one out.
Was it thinner and lighter? Definitely. I could not believe how light it felt. It was almost as light a an iPad mini. It reminded me of how amazed I was at picking up the original iPad for the first time. The difference in size and weight is huge.
Next came the real question – how much faster is the new iPad? I was expecting to be blown away. To be honest, I wasn't. Was it faster? Definitely, but it was not so much faster that I had to have it. Apps did not launch much faster than they do on my iPad. In fact, for basic use like email, browsing the Internet, typing notes, and even playing games I did not see much of a difference. I would have liked to have been able to test those art programs I mentioned, but they were not installed. Even if they were, I don't know how much faster they would have been. I suspect they would have been more responsive, but I don't know.
Part of my observations on the speed of the device are most likely due to many applications not being built to take advantage of the new processor. The other part has to do with the fact that email can only go so fast. By next year I suspect there will be plenty of apps made to run faster on the iPad Air, but by then it will be time for a new iPad that is even faster!
So, for me it is the third generation iPad for now. Will I get a new iPad in the future? Most likely. When? I don't know. As long as my iPad does what I need it to I'll probably stick with it.
Should you upgrade your iPad? That depends: If you have an original iPad, it probably would not be a bad idea. If you have an iPad 2 or later I would suggest doing what I did. Go out and try one. See if you notice a difference and if it is worth the money to upgrade for you.