In case you don't know, Flipboard is a newsreader app. I've had it on my iPhone for some time now, loving the way that it pools together stories from a range of well-known media outlets and presents them to me using a "flip" interface that's both intuitive and satisfying to use.
When you first run Flipboard, it asks you for your interests. My personal choices include news, UK news, technology, food, and travel but there's plenty more to choose from including celebrity news, sport, TV and fashion. Flipboard can also link to Facebook, Twitter and various other social sites, presenting friends' updates alongside the other content.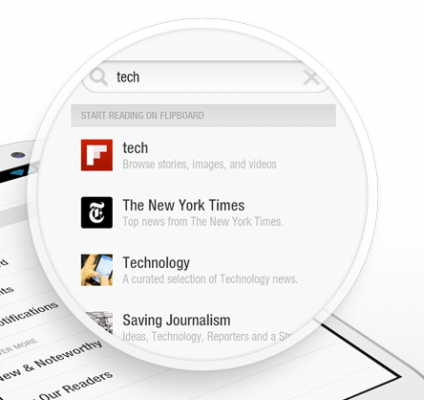 After several months of use, Flipboard became one of those apps guaranteed to survive every one of my occasional iPhone app clear-outs. So when I recently purchased my first iPad, it was a given that it would be one of the first apps I would install and check out on the new device.
Flipboard on iPad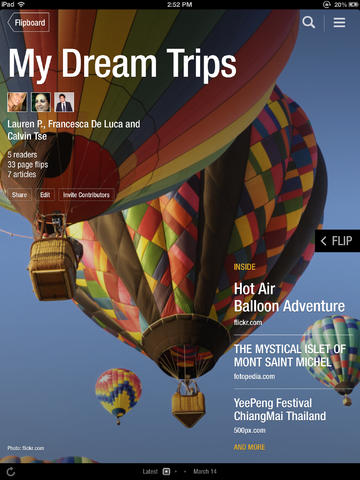 It turns out that the difference between brilliant and perfect is an increase in screen real estate. While Flipboard was great when it showed me one story at a time, it now spreads out mixed media (including video) across iPad "pages," making the experience just like reading a futuristic newspaper. I'm able to scan the headlines, and then drill down into the stories that interest me.
Creating a Flipboard account is free and very easy. In my case I simply linked it to Facebook – a true "one tap" signup. Once you have an account you can "favourite" stories that interest you and create your own Flipboard magazines. I'm not sure I will find a need for this feature but it's good to know it's there.
For me, it's quite enough to have access to all the news stories in a format that is so much like a newspaper. Picking up my iPad and "reading Flipboard" at the end of a working day now brings me that familiar sense of "it's time to relax and read the paper." In fact, I often read far enough back to meet the feed of stories that I finished the previous day.
Conclusion
There's really very little I can find to criticize about Flipboard, it being one of those apps that's just slotted neatly into my existence. However, one thing I have noticed is that my chosen subject areas tend to feature a lot of stories from The Economist, which requires a subscription if you wish to read a lot of articles on a regular basis. As such, I often find myself tantalised by interesting features that I'm unable to read as I've "hit my limit."
Still, given that Flipboard itself is completely free (a wonder in itself), perhaps I should just pay out for a subscription. After all, with Flipboard in my life, I can't imagine a time when I'm ever again going to feel the need to pay for a newspaper.