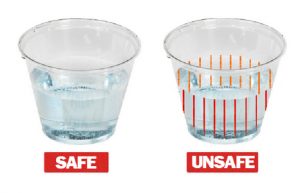 It seems that each day a new piece of technology is being invented. From new electronics, to items that allow us to live "greener" lives, to those that seem practically unnecessary, creative types are bringing new items into the world. One recent invention, however, can actually help create a safer nightlife environment. By combining chemical reactions to everyday items – plastic cups and straws – bar drinking can now be made safe.
Thanks to Drink Savvy, all users need to do is use a specific cup to know their beverage is free of common date-rape drugs, such as GHB, Rohypnol, and ketamine. Though they host many different street- or nick- names, these are the three main active components in date rape drugs, and each will almost immediately show up when present in Drink Savvy products.
How it Works
Drink Savvy items – plastic cups, straws, and swizzle sticks – react and change colors when date rate drugs are present. The cups contain spots or stripes, depending on the type of cup, when drugs are detected, while the straws and swizzle sticks turn bright red. As a chemical reaction takes place, the color changes, warning the drink owner the drink has been tampered with.
The cups can be purchased by bars or anyone throwing a party. Glass versions are even in the works for a sturdier, earth-friendly way to test one's drinks. And when the cups can't be easily obtained, consumers can throw in a swizzle stick or straw for easy identification on the go.
Similar products come in the form of testing strips, which can be dipped into one's drink. But with beverage products that double as testers, there's no need to worry about re-testing or waiting for results to come in.
What it Means
With more and more date rape drugging taking place each year, the introduction of products like these means consumers can stay safe while still having a good time. By combining science with actual products that users can transport, Drink Savvy's efforts bring mobile stability to any party. Thanks to this growing area of technology, practices like drink spiking can soon be greatly reduced, if not stopped altogether.
Though this drink testing technology is not yet available, Drink Savvy is staying active to make others aware about their new inventions. Head to Drink Savvy's website to find out more on product and research.