I love printed magazines, and I have since I was a teenager, when my magazines of choice included hip-hop journal The Source, and lots of geeky Atari ST mags, which always came with a demo-filled 3.5-inch "cover disk."
Much has changed since then, obviously. Easy software downloads have obliterated the last of the cover disks, and the printed magazine industry itself is struggling as a result of people consuming information on their PCs and tablets rather than in printed form. Many long-standing magazines have folded (pardon the pun), and many more have switched from monthly to quarterly production.
For me, however, the lure of printed magazines has remained strong. As I now live in Portugal, English-language magazines are hard to come by and are rather expensive, but every trip to the UK has me visiting the airport newsagent for a stack of magazines to bring home, including titles such as BBC Good Food, Wired, and Mac Format.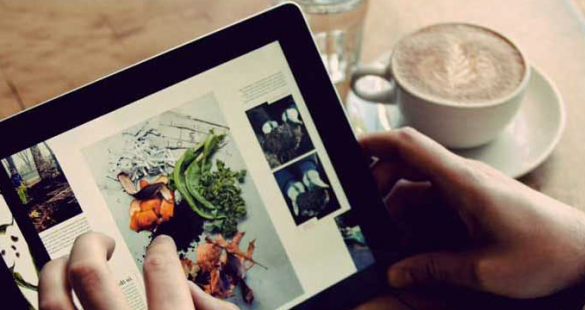 Enter the iPad
Earlier this week, everything changed, as I finally gave into temptation and purchased an iPad. The ability to read my favorite titles on a sensibly-sized screen was one of the main attractions.
One of the first things I did was download the Zinio magazine app. I had used this before on both my Mac and iPhone, but found the experience far from pleasurable on those platforms. It's not comfortable or relaxing to read from a laptop screen, and magazine reading on an iPhone involves far too much pinching, zooming, and squinting. Furthermore, I don't particularly fancy leaving the fate of either of these expensive gadgets to the bath or the beach.
Zinio on the iPad was everything I had hoped for. I could comfortably read a whole page without zooming, and the ability to switch to a pure-text display for long articles was very convenient. Within hours of unpacking my iPad, I had devoured the latest issue of Mac Life, as well as several other digital magazines that I purchased impulsively.
Still yearning for print editions
I then switched to Apple's Newsstand app and downloaded Wired, another title I greatly enjoy in its paper form, but it's not really quite right to describe the electronic version of Wired as a magazine; it's more of an interactive experience, with embedded video clips, animations and mixed-media advertising. I was impressed, but before too long, I found myself wishing I was curled up with the paper copy instead.
The simple fact was that the overuse of clever features made the experience more like playing a game than reading a periodical. It wasn't instantly clear how I was meant to use all of the gestures and such, and as a result I found the experience more tiring than relaxing, especially when I reached a page which appeared to have a glitch that interrupted my reading.
Conclusion
I'm truly glad that I have instant access to all of my favorite magazines, but I'm not at all convinced that I want magazines presented to me in a newfangled interactive way. While I've no doubt that this works wonderfully for interactive textbooks, I simply like to sit and read my magazines from cover to cover, without having to work out how and where to press the screen of my iPad.
So, while magazine reading will surely be something my iPad is used for much of the time, I'll still be visiting the newsagents and leaving with a carrier bag full of magazines when I get the opportunity, and I won't have to worry about dropping them in the bathtub.