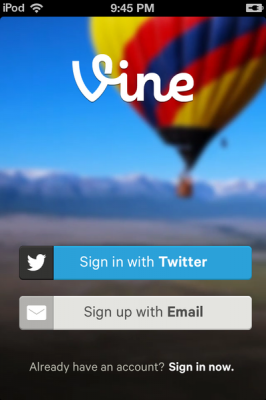 Now that Vine for Android is a few weeks old, users are finding more and more uses for the six-second video app. Owned by Twitter and essentially creating the video form of tweets, Vine is taking the app market by storm. At a year old, Vine even topped Instagram for the most downloaded app among Android users. And the more users that are signing up for the app, the more uses that have been found for this handy little app.
In fact, it's being used for almost everything. Entertainment, creative resumes, just-for-fun posts, even educational ventures, like sharing recipes or cooking instructions. By using the record feature only when it's necessary (for instance, to show ingredients or important work history), viewers are able to fill in the gaps between shots. This cuts down on share time while creating unique and creative effects. The hold-when-necessary also provides a unique GIF-like appearance, showing the effect of jerky camerawork without giving viewers motion sickness.
Using the Vine
Because of its unique features – which include sound, stop motion, time restraint, and the ability to share directly to social media sites – Vine has been used for a number of creative video ventures, even more so than its competitors. Reporters are even using the app to share news events as they happen; while video can be recorded, emailed, and posted online, but why not upload a Vine recording directly to Twitter? This feature allows the timeliest of news to be shared while eliminating minimal technology delays.
Like Twitter, users cite one of the biggest perks is the time restraint. Users are becoming far more creative with their time without the ability to drag out pictures or instructions. For instance, with cooking-related Vine videos – ingredients are shown in sequence, along with the recipe in progress, until the final project is reached. During a cooking show, a viewer would have watched 30 minutes of program to see the finished product. But with Vine, instantaneous cuts down on all of the in between nonsense, like rambling or commercials.
Whether you sign up for Vine for a creative new way to explore social media or you're looking for a trendy way to share information, this app seems to have something for everyone. Just click, record, and share.
To find out more about Vine or to start creating your own stop-motion videos, check out the app on Android and iOS.