I would never claim to be a bona fide DJ. At best, I am a hobby DJ who's been given the occasional opportunity to do his thing at some bars and parties. Even so, I am passionate about playing and mixing music, and over the years I've invested in various software packages and items of equipment.
I started, as every DJ should, with vinyl decks, and then progressed via CDs to Virtual DJ software. I then added a cheap mixing console which, it's fair to say, served me well for a few bar gigs.
Then, a couple of years ago, I found myself with a bit of spare cash and invested in a Traktor Kontrol S4, Native Instruments' flagship hardware controller. I had a lot of fun with it, but lately I've became painfully aware of the expensive piece of equipment's confinement in the cupboard in our spare room, getting (at best) a quarterly airing at an impromptu house party. I made the vague decision to sell it, especially when Native Instruments dropped the price of the Kontrol S4, which resulted in a corresponding drop in the value of my "asset."
Meanwhile, things have yet again moved on for the digital DJ, and there's been no development more exciting than the release of Traktor DJ for the iPad and iPhone. Recently, I decided to finally give the iPhone version a go, and I'll be up-front from the start: I was extremely impressed.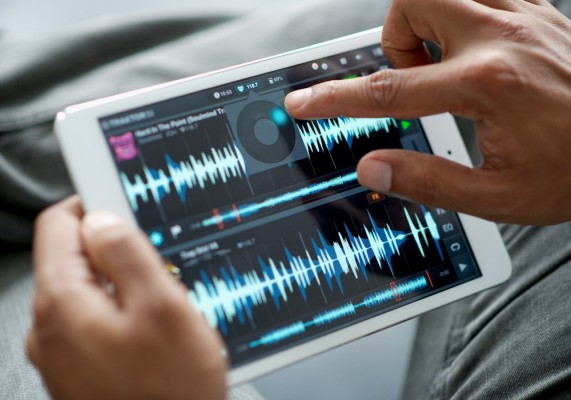 Usage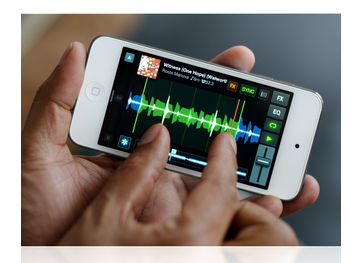 Traktor DJ's interface is clear and slick and the beat-matching engine is spot-on. What's more, all the key features are present and correct, and all reimagined for touch control – which, as it turns out, is actually a really tactile and natural-feeling way to mix.
In terms of the basics, there are EQs, filters, hot cue points, loops, and a basic range of effects including delay, reverb, beatmash and gater.
Then, there are a couple of things unique to the iOS version of Traktor. One is "freeze mode," which allows you to freeze a section of the track (usually a four beat loop), and manually trigger the beats by tapping the screen, effectively allowing you to remix "on the fly."
There's also a track recommendation engine that suggests your next track based on its key as well as its BPM. This kind of harmonic mixing isn't even available in the Traktor Pro software at the time of writing, so to see it in an app that costs $19.99 on the iPad or just $4.99 on the iPhone is truly impressive.
Conclusion
Features aside, however, could Traktor DJ really replace my existing digital setup? Well, on the iPhone alone, probably not. There's simply too much functionality to cram onto such a tiny screen. Even though the way that Native Instruments has designed the UI is very clever, with the ability to "slide" between decks, I still keep managing to accidentally stop a track when I'm intending to come out of a loop.
The difference in price between the iPhone and iPad versions (which are essentially identical in terms of functionality) seems to indicate that Native Instruments is aware that the iPhone version will be used more as a "toy." But this brings us to the most important point: On the iPad, Traktor DJ is more than I could ever need for my occasional DJing. In fact, I am already coming close to hitting the "buy now" button on a new iPad Mini specifically for this purpose.
With the addition of Native Instruments' new Kontrol Z1 mixer and soundcard, I can also have physical faders, headphone cueing and professional sound output – all in a setup that would fit in the glove compartment of the car.
While I've no doubt that plenty of DJ purists will object to the ease-of-use of Traktor DJ, for people like me who just want to mix some tunes and play the occasional bar set, it is absolutely perfect. My bulky old equipment just got one step closer to the eBay pile.