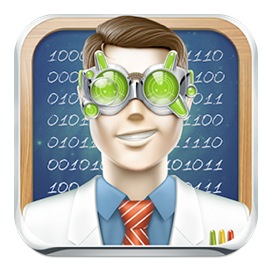 If you have a computer, you should also have a backup plan in place. Some people have a local backup, others have an offsite backup service, and others might have both or more.
If you are on a Mac you might be using Time Machine as part of your backup plan. However, most backup plans, including Time Machine, can only go back so far to recover a file. Some only backup the most recent versions of a file. Plus, these backup plans are for your hard drive only. What if you accidentally erase a file of a USB flash drive or wipe out an SD card full of pictures you haven't downloaded yet? That is where Disk Drill Pro by CleverFiles comes in.
Disk Drill
Disk Drill is a data recovery application that can help with the situations described above. It's fast and works great. When you run Disk Drill, you are presented with a window that shows all of the volumes connected to your computer, including hard drives, memory cards, and USB drives.  You pick the device you want to scan and scan it. Disk Drill then scans for deleted files. The results are then presented in a list format showing the original folder and even file name. The great part is you can use Quick Look to see the file in Disk Drill before you even recover it. Scanning small drives like SD cards is really fast. Even scanning my 500GB internal hard drive was fast.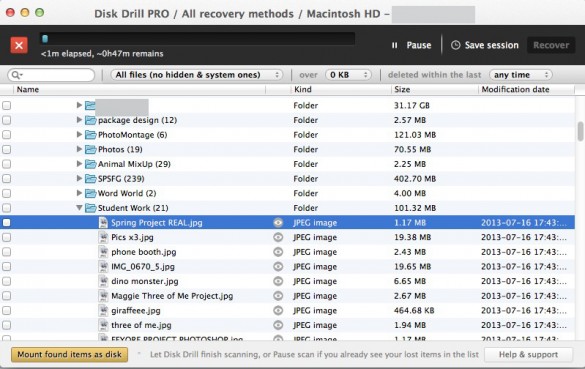 I was really impressed with the amount of files DiskDrill was able to recover. Even if you have erased a memory card for your camera and taken new pictures, Disk Drill will find your old pictures. Of course, the more that disk or drive has been used since the file was deleted the less likely the file will be recovered. Not only does it find the files fast, it recovers them just as fast.
Recovery Vault and Guaranteed Recovery
Another feature in the application is called Recovery Vault. Recovery Vault stores metadata of files on your computer to make locating and recovering them a lot easier and puts the odds of recovery a lot higher. The company website states that this vault takes up about 60mb of space, so it will not eat up your hard drive at all.
There is also something called Guaranteed Recovery protection through the Recovery Vault. This takes up some additional space as the program keeps an invisible copy of deleted files. You can choose which drives and folders to monitor for this feature and you can also set a space limit. I really don't see the need for this if you have a backup plan in place, but you might want to use it for those crucial folders as an additional layer of backup.
Pricing and a Coupon
At $89.00, Disk Drill Pro might sound a bit pricey, however most great Mac utility programs are in that range and just recovering on set of files will make that money well spent. Plus, for a limited time CleverFiles is offering 20% off the price to Techerator readers with coupon code : TERETR-DD.
I highly recommend making Disk Drill Pro a part of your utility apps for your Mac. At the very least, download the free "Basic" edition. It will scan and protect your computer but not allow recovery. If you find yourself needing the recovery feature you can always upgrade.