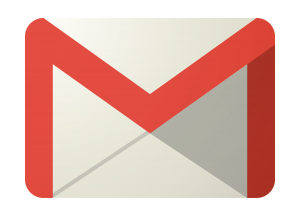 I recently enabled the New Gmail inbox, and I have to say that this new update has me scratching my head.
(To experience the new Gmail Inbox, you have to simply click on the gear icon in your top right window just above the chat and choose "Configure Inbox." From here, you can choose from the variety of tabs that Google has given to you.)
I understand that Google is known for frequently updating its products, regardless of whether or not an update is really necessary. It has become something of a corporate culture, and perhaps serves to show people that they really are putting the work in to improve their products.
However, was this recent update just a minor adjustment or a useful update to how you use Gmail?
Introducing the new Gmail Inbox with categories

The way that the new Inbox is laid out is that instead of one Inbox that has the priority tags, there are multiple tabs on the top of your window. They are similar to tabs in a browser, and by clicking each one you access a different view of your inbox. The default ones that are selected are Primary, Social, and Promotions. If you would like, you also have the options to add Updates and Forums to your tabs as well.
Here are how Google defines each option:
Primary – Person-to-person conversations and messages that don't appear in other tabs.
Social – Messages from social networks, media-sharing sites, online dating services, and other social websites.
Promotions – Deals, offers, and other marketing emails.
Updates – Personal, auto-generated emails including confirmations, receipts, bills and statements.
Forums – Messages from online groups, discussion boards, and mailing lists.
After you have chosen your tabs, you will notice that your email becomes all jumbled. Gmail automatically goes through all of your emails and places things where they "belong." For example, anything that is an email generated from a forum comment will go into Forums, any recent email about a great deal will go in Promotions, etc. The idea here is that when you want to look for social emails, you go to social. When you want your updates such as bills and receipts then you go to Updates. I like the idea, and automatic sorting really makes using it literally effortless.
So what's wrong with the new layout?
For me, I was immediately confused and a bit shocked to see that the "primary" option is exactly as it states. It is for emails that haven't shown up in other tabs. What this meant took me a moment to process because I was so surprised and assumed it couldn't be true. What this means is that there is no longer a unified inbox where you can go and just see ALL your email in one date sorted list. So if you don't see it in primary, go to social. If it isn't in there, try promotions, etc. This was immediately a deal breaker for me because this completely makes you rely on the automation process which would have to be flawless.
Is Google good enough to sort it out?
The answer to this is yes and no. Fortunately, Google is great at recognizing content in your emails (yes, that is creepy), but the built-in safety is that it will actually learn from you as you move your emails around. So for example, if you get an update in your Updates tab that you would prefer to be in your Social tab, you can simply drag them email onto the Social tab and Gmail will ask you if you would always like to do that for this sender. If you choose yes, then that senders email will go into the tab you chose.
The biggest problem I see with this is that it is essentially creating "rules" much like you would in Outlook or Apple mail. Yes they can be powerful, but not when they are the only choice across your whole email system. The fact is that a machine, although they have made incredible leaps and bounds, is not yet ready to determine exactly where I want my emails. Granted, the existence of one unified inbox that just shows you everything would be a great safety net that would make this whole experience much easier in my opinion.
Limited categorization options
I think the confusion and the difficulty now is that you can't create your own tabs, and stuffing your email into these pre-created tabs is… well, hard. I immediately ran into questions that I just didn't want to answer! Isn't this forum response from a local club a social event? Is this marketing email also the address that sends me blog updates that I actually like to read? Is my second or third communication with a doctor, job, etc. considered an update or just in primary? They are technically updates to a situation right? All in all, it was just too confusing with too many questions that to be honest, I didn't care to answer.
I don't get seven thousand emails a day, a nice list of my emails with the occasional folder sorting would be fine for me. I know that for many people, that may not be the case.
New mobile apps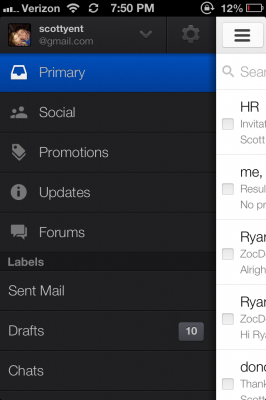 Another huge problem I have with this system is the mobile Gmail app. Although I don't have access to the Android version, the iOS version basically works so that you see each tab and have to tap into the side menu to switch between your tabs. That is two taps to switch between tabs, and I can see it being a huge pain to look through when you aren't sure exactly where an email went. If the default was to see all your messages, then look at them in the tabs when you wanted, I would be ok with that. You would have a safe ground in some way.
Will it get better?
I have complete faith that Google will improve this system, and even just the added ability to create your own tabs will do wonders. Whether they put in one inbox that shows you everything, I'm not sure, but without it I won't be using the new inbox. Google also has a reputation for quickly axing a change they made, and it just all of a sudden disappearing from your options. Perhaps this new tab system will go that way!
I think what it comes down to is: how complicated does your inbox need to be? For some people, simpler and straight forward is the way to go, and I think this new update pushes into complicated territory. For power users that love to organize, it may be a nice change, but for others it is a head scratching nuisance.