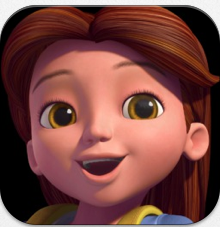 While there are many educational apps available for the iPad based on kids television shows and movies, there are even more apps that have nothing to do with popular characters. These are the apps that get the most play in my house. However, every now and then an app comes along that has nothing to do with any television or movie characters and my son loves it. Leo's Pad Appisode 1 by Kidaptive, is one of these games. Not only did my son love it, I loved it too.
While the app is not based on any popular characters, it is like watching an episode of a TV show made exclusively for the iPad. The story follows a young boy named Leo (Leonardo DaVinci) who is making a birthday present for his friend Gally (Galileo Galilei) and taking it to him. Leo also has a little pet dragon who tags along as his sidekick. As the story unfolds there are a variety of activities your child has to complete. These include building the telescope (which is the present), launching and flying Leo on his glider, and more. The activities are fun and educational at the same time. I'd say the entire game took us about ten minutes to complete.
What really sets this apart from other apps I have seen is the graphics, animation, and music. The graphics in the apps are fantastic. The artwork is beautifully rendered and the animation that goes with it is smooth and well done. The music in the app is a nice support to the story and the voice work was great. It truly felt like watching an interactive television show.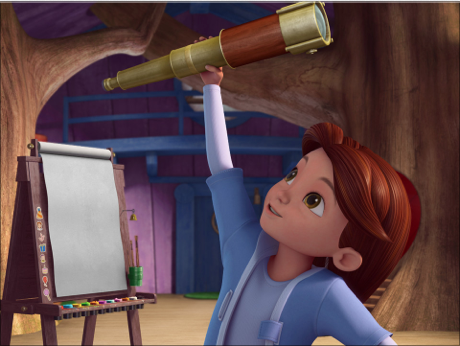 As of right now there are three appisodes in the Leo's Pad series. Appisode 1 is free at the time of this writing and well worth downloading. Appisode 2 cost $1.99 and is definitely worth it. After finishing Appisode 1 my son was so engrossed in the story that I immediately downloaded Appisode 2, which is equally well done and fun. Appisode 2 continues the story of Leo and Gally with a third friend Marie (Marie Curie). The story leaves off where the first stopped and your child helps the friends build a rocket and go into space. Just like the first appisode, this one is a combination of story and activities that move the story along.
The only disappointing part of the second app is that the third part of the series is not available yet. I would have bought it right away and will be buying it as soon as it hits the app store. If you are a parent of a preschooler this is one app series you don't want to miss.