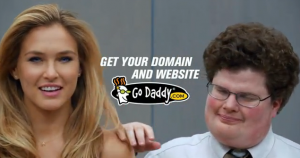 Who else was horrified by GoDaddy's commercial from Sunday's Super Bowl? Meant to show the versatility of their company, millions were forced to watch two ill-matched people loudly kiss. For too long, and with awkward, unpleased faces. To GoDaddy, this was a way to mesh two very different entities, "smart" and "sexy." (Though no one knows what the latter has to do with web hosting.)
Two days later my four-year old website (GoDaddy hosted) fell off the face of the internet. And they couldn't fix it. I first spoke with a very helpful male employee, who offered a slew of helpful, albeit wrong options. And then I spoke to a rude, female employee who flatly said, "We don't fix that; no one can help you." And also, "There's no one I can transfer you to." Coincidence?
The company had its best sales day ever after the Super Bowl, but could the commercial have actually hurt GoDaddy? (If not the ad itself, surely their efforts to embody said commercial will.) Somewhat offensive to the computer-minded brains, if taken the wrong way, GoDaddy could lose a huge portion of their business. And if anyone should understand not to bite the hand that feeds them, it's an internet-based company. Sure, dropping GoDaddy would mean re-hosting, re-domaining, moving, and launching websites with new server space, but hey, they're nerds, they can handle it.
In contrast, Best Buy's Amy Poehler appearance had users wanting to hop out of their recliners and purchase a new external hard drive, tablet, smartphone, or anything else that warrants a visit to the techie store. The commercial was smart, clever, and didn't have viewers debating whether to cover their eyes or ears.
httpvh://www.youtube.com/watch?v=KgmhhVCLgM8
The Age of Tech?
The rest of the Super Bowl, however, was noticeably free of electronic-themed commercials. Advertisers must think the only football fans are truck-driving, beer-drinking, in-need-of-insurance Americans. To some end, it's probably an accurate demographic. But in the age of constantly growing technology and where the commercials are more popular than the game itself, it's downright surprising that more tech and/or internet-based companies weren't represented.
Whether or not these commercials will have a long-term effect on GoDaddy's sales is yet to be seen. However, if their services continue to reflect this overall "sexy" vs. "smart" theme, it's likely they'll do the damage on their own.