As the realm of cloud-based file storage grows in popularity, so too does the needs of its users.  The people of Dropbox understand this, and are always adding new features to improve the experience.  (Never heard of Dropbox?  Don't worry, we here at Techerator have you covered.)  This time around, Dropbox has added a simple, yet worthwhile option to enhance the user file sharing experience, and it's called sharing links.
Yes you heard right; Dropbox is allowing users to share links now.  Here's why: Originally, files and folders on Dropbox were shared with others via an internal "share" button.  This means that they were shared and synced only between Dropbox users.  But now with this new share link function, a file or entire folder can be sent out and accessed by anyone who has the proper link.
The Link Sharing Process
The link sharing process begins by logging into one's Dropbox account through the browser, the file explorer program, or the mobile app.  Select a file or folder for distribution and click the "Share Link" option.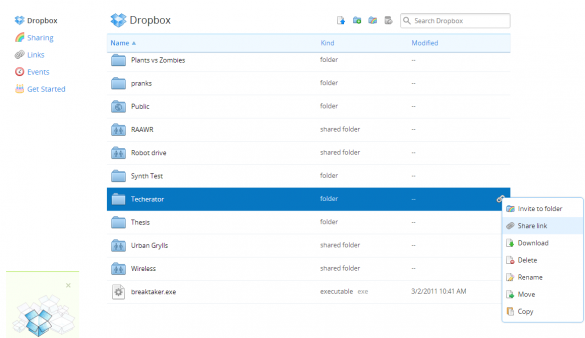 A pop up box asks for intended recipients and a message to send to them.  Note that this sharing function is not limited to email; Facebook and Twitter sharing are also supported.  Once complete with composing a message, click "Send" to…well, send the link out into the world.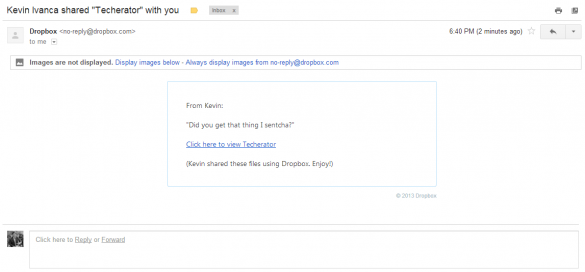 Once the recipient clicks the Dropbox link in the sent message, the file or folder that was shared should appear and provide full viewing access regardless if they have a Dropbox account or not.

Features of the Shared Link
A few options exist to the user for viewing/using the shared Dropbox files and folders.  The standard method for file viewing is through the web browser interface.  Photos, videos, and even Microsoft Office documents can be clicked and previewed with little effort.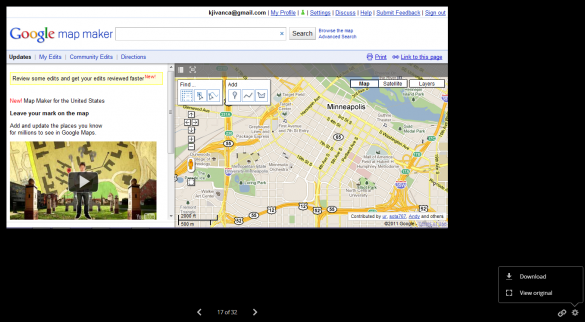 If the recipient decides they need a shared file beyond browser viewing, Dropbox allows them to either pass the link along (note that each file in a shared folder has its own personal link as well) or to download the file to their local machine.
Conclusion
File sharing no longer has to be difficult.  Thanks to Dropbox links, there's no more messy file compression, no more large attachments for emails, and most important of all: no more USB thumb drives.  Just link and send it out.