I really want to love my tiny, stylish new Apple TV box, but I'm finding it rather difficult.
For those that don't know, the Apple TV is a streaming media device. It connects to your TV via an HDMI cable and allows you to buy and play content from Apples iTunes store and a few third-party providers. It also lets you play shared iTunes content held on other computers on your network, and use AirPlay to mirror your Mac, iPhone or iPad onto your TV.
Or at least that's the theory.
First impressions were good. The Apple TV's packaging is typically minimalist and stylish and the unit itself is surprisingly compact. The initial setup was straightforward, requiring me to connect HDMI, optical audio and power. Upon start-up, the unit requested my Wi-Fi details and my iTunes username and password.
The basic menu is attractive in high-definition, and looks like something between iOS and the iTunes store. From the initial switch-on, you can see all the latest movies available for rental and purchase, and obtaining something is a simple matter of a few clicks on the diminutive silver remote.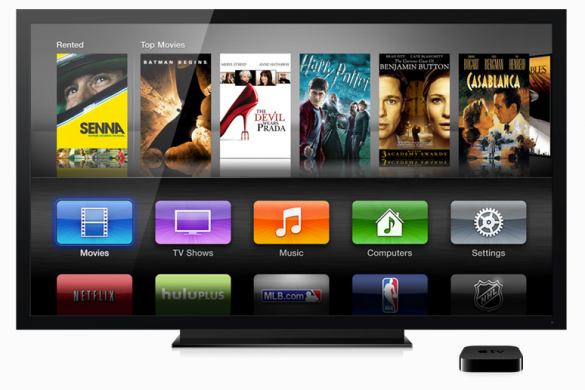 So far, so good. Or at least it was until we decided to rent an HD movie. After taking our money quickly and efficiently, our Apple TV told us we had to wait 50 minutes until our movie was ready to watch. The device advised us that we could reduce the waiting time by selecting a lower resolution – but doing this actually increased our waiting time.
Sadly, this delay has occurred on more than one occasion, and it only takes a quick Google search to find that the problem has affected hundreds of unhappy people. Before anyone blames our download speed: we have a perfectly fast home Internet connection, and one that buffers other HD content almost instantly. This is an Apple TV or iTunes problem. Sometimes it doesn't occur at all – but when it does, it always seems to be when the popcorn is warm and a group of people is waiting – not good.
Unfortunately, our problems don't end there. One of the main attractions of the Apple TV is AirPlay, which gives you the ability to echo your Mac screen straight to the television. While the screen echo usually works, the audio output transfers to the TV perhaps one in four times. Sometimes it works, other times we must restart the Apple TV or sometimes the Mac's Web browser. There's no consistent pattern (and believe me, I've read and worked through the forum suggestions).
The outcome of this is that often there's more fiddling around involved in watching a streamed TV show via the Apple TV than there used to be when we dragged an HDMI cable across the room. So much for progress. Since I've had the Apple TV, my meal is often getting cold before my chosen TV show starts.
It's all a terrible shame, because some of the time the Apple TV works exactly as it's designed to – and when it does, it's great. But it's all not quite good enough.
Aside from Netflix (which is not available where I live), Apple TV ties you firmly into Apple's media ecosystem. By purchasing one, you are committing to buy a significant quantity of media from the iTunes store, where it often costs more than it would elsewhere.
I was prepared to make this commitment, but the Apple TV simply doesn't live up to the quality of the other Apple products that have won my heart. It's not on my "things for eBay" pile just yet, but it's on seriously thin ice.