The launch day for the new Nintendo Wii U saw my wife and I rush out to buy one like excited children. As committed Nintendo fans we had waited eagerly for our chance, and we were lucky enough to find one in the first shop we visited. With time off work booked in advance, specifically for this moment, we drove quickly home to get started. This article discusses our first month with the new console.
First Impressions
My first observation when rooting through the box was that our shiny black premium console is a serious fingerprint-magnet. I was also quite surprised by the size of the new tablet-based gamepad. It's far larger than I expected, but not to its detriment – the gamepad is well-built and very comfortable to hold.
I was already aware of the day-one software update. This multi-gigabyte download attracted criticism, but anyone who understands technology should be forgiving. The consoles were probably boxed up far in advance of the final firmware being ready, so I was patient through the download and installation, which took just over an hour.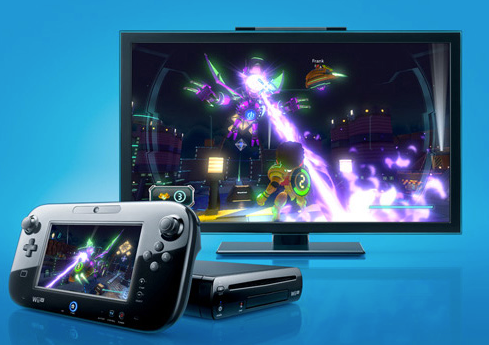 The Wii U's TV remote integration must be mentioned here. All it really does is allow you to use the Wii U Gamepad as a TV remote, to change inputs and volume, but it work seamlessly. You really have to own one to know how it changes things in your living room, but read on to the conclusion to find out more.
It's Mario Time
httpvh://youtu.be/IQHa4qindfE
New Super Mario Bros U, the latest 2D Mario platform game, took up all of our initial hours of gaming. We swooned at seeing Mario in HD for the first time and enjoyed and cursed the "old-school" difficulty level in equal measure. I must confess, however, that we felt some disappointment on completing the main game within about 20 hours of play.
I was quite disappointed by this. Many criticized the choice of a 2D Mario platformer for the launch of a "next gen" console.  While I had no objection, this game needed to be truly epic and, to be frank, it just wasn't. Extra bolt-on modes do not make for an enormous game, and we were surprised and disappointed to find New Super Mario Bros U on our eBay pile long before Christmas day.
Nintendo Land
httpvh://youtu.be/sawZZVrlsSo
Christmas marked our first opportunity to put some serious hours into Nintendo Land, the Wii U's closest equivalent to the "entire family can play" simplicity of Wii Sports.
Nintendo Land is tremendous fun, and despite the individual mini games being more complex than swinging a virtual racket, the whole family did get involved and enjoy the experience.
What surprised us was that the single player "attractions," particularly Balloon Trip Breeze and Yoshi's Fruit Cart, grabbed more of our family's attention than the much-hyped asymmetric multiplayer options like Luigi's Ghost Mansion. We passed several hours working away at each other's high scores, rather than chasing each other around maze environments.
While it's true to say that the Nintendo Land disk has spent little time inside our Wii U since the Christmas flurry of interest, we're far from done with it just yet. I think the game may have more longevity than Wii Sports, in our house at least, so this is quite a triumph for Nintendo.
Sonic and All Stars Racing

httpvh://youtu.be/W7b5h7wthYE
Once we'd exhausted the delights of Nintendo's first-party games, we still had Sonic and All Stars Racing Transformed lurking below the Christmas tree.
We didn't expect miracles from this multi-format game, so we were surprised and delighted when it delivered, for us, the most impressive gaming experience so far on the Wii U.  The game's fast action actually gave us a hint of what our "next gen" HD hardware could do. Nintendo really shouldn't have left a third-party to show us the capabilities of its new hardware, but that's for another time and another article.
We also spent some time with a couple of demos: Fifa 13 and Rayman Legends, the latter instantly becoming one of my most anticipated games of 2013 thanks to the variety shown in just three demo levels.
The Miiverse
httpvh://youtu.be/wu1kGo5j7NU
Finally, the Miiverse needs a mention. This friendly and lighthearted social networking platform is truly unique. The ability to comment at certain points of the gaming experience is more engaging than you would expect, and it's fascinating to interact with people cursing the same level as you are. I've only scratched the surface of the Miiverse so far, but am impressed with what I see.
The Bad Bits
It's not all been fun and games. Transferring all of the retro Virtual Console games from my original Wii was slow, hateful and unnecessarily convoluted. It seemed like a slap in the face as reward for the serious sums I have spent on these downloads.
In addition, the lack of any real Wii integration with the new Wii U menus was a disappointment. Instead, you must effectively reboot into Wii mode if you want to use any old Wii games – it's clunky and unappealing.
My final disappointment is the lack of any Wii U Virtual Console at this stage. Making 15-year-old games available for download should not be complicated and I actually think it inexcusable that Nintendo didn't have this ready for release day.
Conclusion
There's a lot we love about the Wii U, and bizarrely it's the universal remote functionality that I mentioned above that deserves a special mention. The simple ability to switch on the TV and change the input to the Wii U without a remote means that all you have to do to begin gaming is grab the Wii U gamepad. This, somehow, ends up makes using the console more of a daily activity that it would have been otherwise. It's an incredibly clever move from Nintendo.
Gaming wise, the Wii U has pleased me, but Nintendo desperately needs to keep the games coming. Right now, I'm playing a couple of indie games downloaded from the eShop (Nano Assault Neo is my current choice), but when they're done, I've played everything I want to. I really don't want to see a console I was so excited about lingering unused beneath my TV. If Nintendo had some retro games to tide me over (Gamecube titles please!) then this would be less of a concern.
So, I'm happy with the Wii U, but at the same time feel I need a little more convincing. Please don't let me down, Nintendo.