The recent explosion of indie game development has produced a ton of amazing games and has revived several older game styles like the side-scrolling platformer (VVVVV and Braid being good examples). Unfortunately, those of us who were fans of arcade shooters like R-Type and Raiden have been left mostly in the cold.
Jamestown:Legend of the Lost Colony, an arcade-style shooter from Final Form Games, aims to correct that oversight.
Gameplay
Jamestown is a vertical scrolling shoot' em up ("schmup", if you're fancy) which, according to Final Form's website, is set on "17th-century British Colonial Mars". The setting and narrative don't make any sense, but they work as an excellent spoof on the horribly translated and often bizarre Japanese games in the genre.
Gameplay is simple: You are put in control of a ship. The ship has guns. There are enemy ships. They also have guns. Shoot the enemy. Don't get shot.
httpvh://www.youtube.com/watch?v=gk7UERiO3t4
Each level consists of waves of enemy ships followed up by a level boss. There are only a handful of levels available, but multiple difficulty settings, bonus challenges, and ship selections add variety to the game.
The brevity of a single play-through may not make much sense to someone new to the genre, but this is a game that's meant to be re-played ad infinitum, building twitch skills and becoming in-humanly masterful at avoiding enemy fire.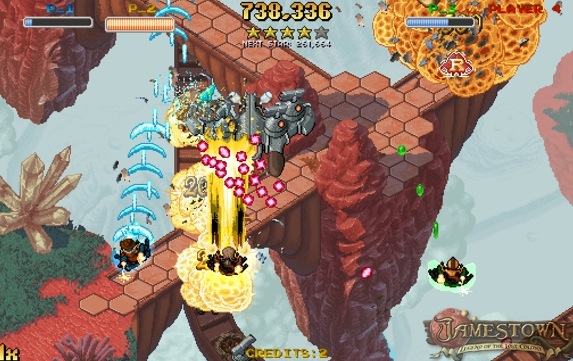 The artwork, soundtrack, and gameplay are all excellent and fit together well. Pacing is perfect and it's obvious a lot of work went into timing and designing each level.
Availability & pricing
Jamestown is available for PC & Mac via Steam, D2D, and GamersGate for $9.99.
Final Thoughts
The one piece that doesn't quite work is the co-op mode. Huddling around a keyboard with three of your best bros, while true to the game's arcade roots, just doesn't sound like much fun (all of those bros take up quite a bit more space than they once did.). Even playing with two players on the same keyboard was a bit cramped.
An online co-op mode would take this game from "very good" to "almost perfect". It's possible that the high-speed, low-latency nature of the game may make this challenging from a technical perspective, but it would be an excellent addition.