Puzzle games are delicate creatures. They require a careful balance of difficulty: too easy and players get bored, too hard and players get frustrated. To grab the largest audience possible, most puzzle games steer towards "too easy".
Partly because the tuning is difficult, it's rare to see new puzzle concepts (the other big reason is that designing puzzles is difficult in general). Developers tend to play it safe, leaving gamers with a lot of boring games that retread old concepts.
Hundreds by Semi Secret Software, is a new entry into the genre that presents a great look and some new ideas. Unfortunately, in trying out their new ideas, the developers forgot to make the game engaging.
Gameplay
The premise of Hundreds is very simple – tap numbered bubbles until the sum of the bubbles equals one hundred. The bubbles grow as you tap them and if the bubble you're tapping touches another bubble while you're tapping it, you have to restart the level.
httpvh://www.youtube.com/watch?v=aM0Vo7neVpw
Each level adds different obstacles to make preventing bubbles from touching more difficult. Difficulty ramps up gradually, making the game friendly to casual gamers. Levels follow a pretty standard formula: A new concept is introduced, and the next few levels build on the concept before switching to a new obstacle type.
Hundreds is advertised as being relaxing, and I think it succeeds in that regard. A simple, muted aesthetic, paired with the ambient music and sound effects create a calm environment that other puzzle games would do well to mirror.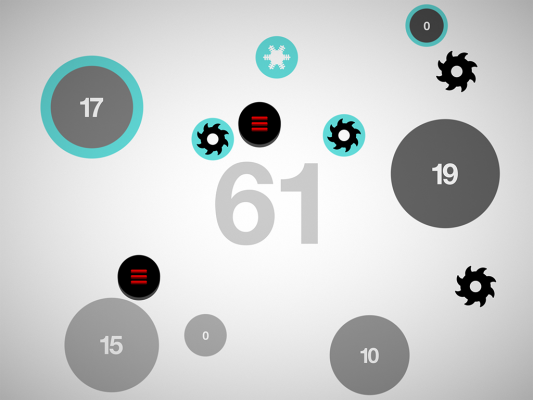 Unfortunately, I found the gameplay a little too relaxing, bordering on boring. While some of the levels were interesting, I struggled to play more than two or three levels at a time before becoming disinterested. The sense of engagement that exists in a game like Bejeweled (not the freemium Bejeweled Blitz, that game is trash) or even mahjong just isn't there. I rarely felt compelled to keep playing.
One benefit to this lack of engagement is that the game is very easy to pick up and play in short bursts, which fits the mobile space well.
Pricing & availability
Hundreds is available for iOS devices through the App Store for $4.99.
Final Thoughts
I was able to get Hundreds on sale for $2.99 and looking back, I think it should have been a dollar less. For $4.99, there's just not enough interesting substance or replay value. Maybe the cost is justified by the volume of levels, but I'd rather spend my $5 on a spicy chicken sandwich than the 100 levels of "meh" that Hundreds supplies.