Sometimes, kids can be the worst people to buy for.  Because of their constant exposure to the media and marketing, their desires and wants change from one fad to another almost instantaneously and always at the most inopportune time.  Of course, one can always go the route of buying them clothes (they grow up so fast, don't they?), but before one resorts to this consider these "kid tested Techerator approved" gift ideas first.
The Wii U (or a Nintendo 3DS)
Nintendo is always a good contender for kids and families alike during the holiday season and this year is no different.  This time around, they have the new Wii U gaming console (with oodles and oodles of new games) as well as their portable 3DS platform for kid gaming on the go.  For a good source of family fun this season, consider getting the Wii U and show your kids how a true Mario fan saves the princess.  For some peace and quiet on the drive back from the holiday celebrations with relatives, consider the Nintendo 3DS instead with its own kid-friendly game offerings.
Kindle Fire (or an iPad mini or a LeapFrog LeapPad)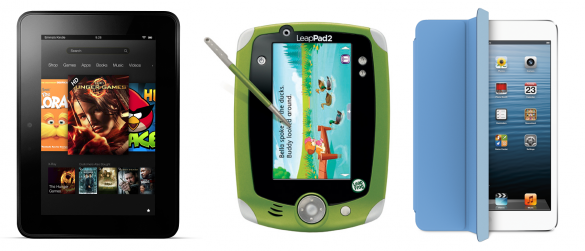 It is not hard to see that the world is catching on to portable tablets like a moth to a LED-powered flame.  The younger generation is no different.  Granted, there are quite a few options out there to consider this holiday season (each one with their own pros and cons), but here are a few recommendations.
At the low-end of the pricing spectrum is the $99 LeapFrog LeapPad with a simple user interface and plenty of educational apps for the budding minds you are cultivating.  For a mid-range tablet with full access to books, movies, and games, consider the $199 Kindle Fire by Amazon.  And finally, there is always the $329 iPad mini by Apple (if you're having trouble deciding which table to get for your child, check out our helpful guide.).
Regardless of which one that is bought, the purchase of a tablet this holiday season should provide hours of blissful entertainment and learning (and your kid will like it too).
A Kid-safe digital camera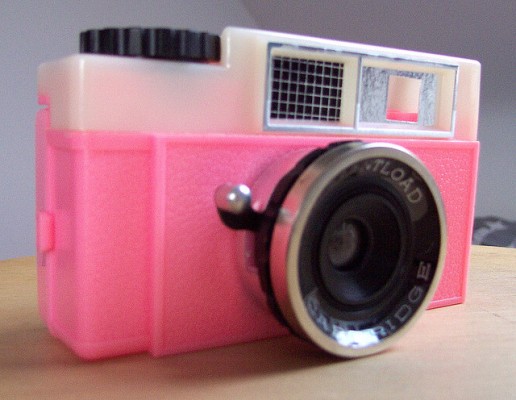 No matter the age, kids love participating in photographs.  So for this holiday season consider switching places with your child and let them take the pictures instead.  A good camera to look into buying is the Vtech Kidizoom Spin and Smile Digital Camera at $39.99.  It comes with a 2 megapixel camera, 4x zoom, and a plethora of special effects that can be applied to the pictures it takes.
Furbie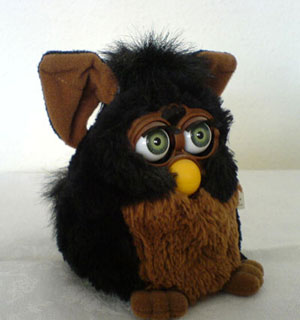 Don't look now, but the Furbie is back.  Yes, after 14 years the Furbie is being re-released via the folks at Hasbro.  So what has changed this time around?  Well, according to the synopsis on the Amazon product page, the newest version of Furbie "…has A MIND OF ITS OWN."  You can talk to it, tickle it, pet it, shake it (but not too hard), and play music to it.   Furby responds to all these interactions at first in its own proprietary language, but as time wears on it will start to learn English and respond appropriately (hence the "mind of its own" part).  Currently a Furby is going for $59.99 on Amazon.
Legos (or anything else non-technical)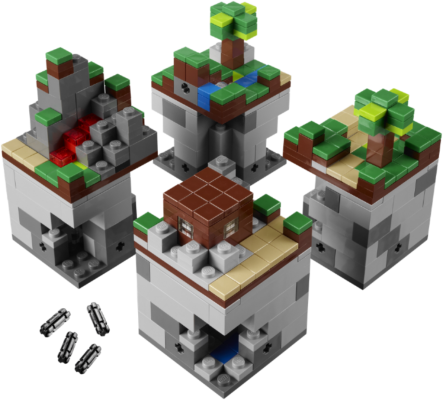 So far, this article has presented some technological options for kids.  But what if one wants to remove technology from the equation?  Thankfully, there are plenty of imagination-molding toys and games out there that can provide the same level of engagement that a tablet or gaming console can.  So do your kid a favor and get their creativity flowing by buying them some Legos (and yes, they make Lego sets for girls).   The author recommends the Millenium Falcon Lego set (at $139) due to the fact that he never had one as a kid.
Conclusion
From tablets to Legos, the only reason why you'd have to resort to buying socks and underwear this holiday season for the kids on your list is if they desperately need them.
Images courtesy: faseextra, ohnogc, Gareth Courage, Liz@rt, Apple, Amazon, LeapFrog, and Lego