There's something about traveling for work that hardens a person and makes them hate their fellow man, at least for the duration of the trip. The stress of getting from point A to B tends to bring out the worst in people and it's just an unpleasant experience for everyone involved.
 Get out of my way, lady-with-a-stroller. I'm late for my flight and your baby is ugly.
Anything that helps smooth the travel experience is a welcome gift for a frequent traveler. I've collected a few items that have made my life easier and would likely please the traveler in your life.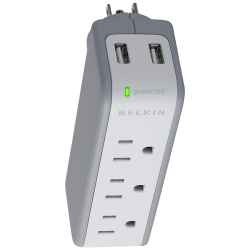 This relatively inexpensive travel accessory has done almost as much to improve traveling as my iPad. It also improves the lives of fellow travelers by changing the conversation from "Give me that outlet or I'll cut you." to "Hey, let me plug this in and we can all share."
The benefit-to-space-consumed/weight ratio is excellent as it's tiny and easily fits in the side pocket of a backpack. It may seem a bit boring for a gift, but anyone who travels frequently will love it.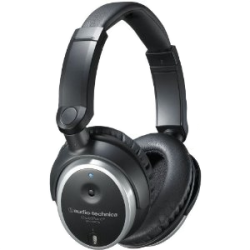 Friends don't let friends look like tools and wear Beats headphones (Seriously, guy-wearing-giant-purple-headphones, you look like an idiot and you're a bad person and you should feel bad.)
These Audio Technica's are perfectly acceptable for an adult to wear and sound great. The noise cancellation works well and drowns out all the annoying children and that shrill, middle-aged woman telling the entire plane and/or coffee shop how much she loves her stupid, little dog.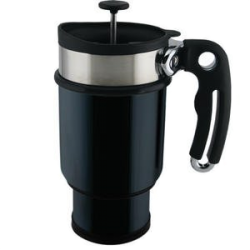 Hotel coffee is for peasants and chumps. It's low-quality. It's old and stale. And after listening to Back to Work – Episode 51 I have to assume it falls under the domain of Mann's Assumption, which is troubling.
Show your favorite, coffee-drinking traveler some love by getting them this French press mug. That way they can be fancy and enjoy their favorite coffee anywhere they go. Actually, it doesn't matter if they love coffee or not. Just get them this mug and tell them "You like coffee now because I'll think less of you if you don't."

One of my favorite things to do at airports and coffee shops is fire up a packet sniffer and see what interesting things people are sharing on the public Wi-Fi and then try to match the traffic to the people I see. Bank of America login? Probably that stressed-out business-woman sitting across from me. Grindr login? That old guy over there, sitting next to his wife.
Protect the privacy of your loved ones from jerks like me by giving them the gift of VPN security with a service like Cloak. It will give them a secure tunnel through public Wi-Fi that prevents their web traffic from being intercepted by others sharing the network. I use it on all my devices everywhere I go.
"Durable" takes on a new meaning when it comes to travel gear. Most backpacks and luggage labeled as durable last just a few trips and replacing bags isn't cheap.
That's one of the reasons I'm pining after this ridiculously durable messenger bag from Saddleback Leather. It's made by hand out of dead cow and pig, looks like something Indiana Jones would own, and has a 100 year warranty. This is the one item on this list I don't have and really want. Someone buy it for me for Christmas. I swear, I'll love you forever.