When I am not writing I am an art teacher and an illustrator, and I am always looking for cool toys to help me with my artwork. Here's a few that I have tried that could make great gifts for the creative person in your family.
Wacom Input Tablets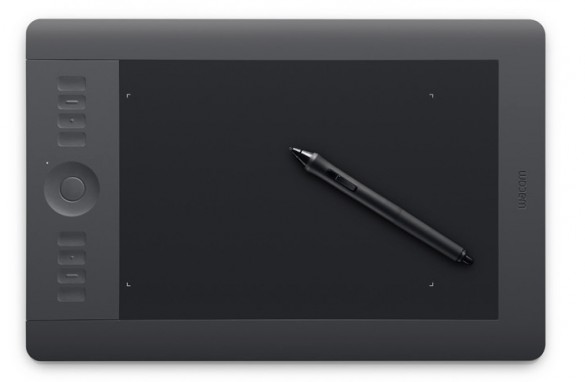 One of the best investments I ever made was buying a Wacom drawing tablet for my computer. It beats drawing with a mouse or touchpad any day.
Wacom makes a large range of tablets to fit any budget. There are the cheaper Bamboo series tablets (featured above) and the more expensive Intuos tablets. The three main differences in the tablets are: cost, size, and how many levels of pressure sensitivity a device has. The more levels you have the more realistic the pen tool is.
All of the Wacom tablets come with great software bundled with them too. I have tried both lines of tablets, and while there is a definite difference in the more expensive Intuos line, the Bamboo line works great for those on a budget.
Wacom Cintiq
On the same note as above (and if money is no object) you could get the Wacom Cintiq as a present. The Cintiq is a tablet and monitor all rolled into one and starts at $999 for the 12″ model and $1,999 for the 24″ model. Unfortunately, I have yet to own one of these, but I would love to have one. The Cintiq makes drawing with a tablet even more realistic by mimicking the act of drawing on paper. Any digital artist would love this. Imagine a bigger iPad with a touch sensitive display and you have a Cintiq.
Wacom Bamboo Stylus
Speaking of iPads and Wacom, drawing on a tablet like an iPad is a lot of fun. Personally, I think you can achieve better results while using a stylus. Wacom makes the best styluses I have tried with their Bamboo Stylus line. I have tried a bunch and the weight of these styluses with the feel of the drawing nib make the Wacom line my choice. There are several different ones to choose from starting at $29.99. They are a bit pricier than many styluses, but you truly get what you pay for here.
Autodesk Sketchbook Pro 6
To go along with that drawing tablet you might want to gift some drawing software. There are a bunch to choose from out there, but my current go to drawing program is Sketchbook Pro 6 by Autodesk. It retails for $59 and is available for the Mac (via the Mac App Store) and Windows.
Sketchbook Pro 6 does a great job of mimicking natural media on the computer and packs a ton of tools and features in one package. With that said, what I really like is that the program is not trying to be more than a drawing and paint program. There are no photo editing tools and no animation tools. It is strictly for drawing and painting on your computer.
Autodesk Sketchbook Pro for Mobile
If you want to give a less expensive drawing program but one that is as good as Sketchbook Pro 6 why not give the mobile version of the program? The mobile version leaves off the number and is just Sketchbook Pro. It is available in tablet and phone apps for both Android and iOS. The tablet version is $4.99 and the phone version is $1.99. Both, like the desktop counterpart, are great natural media drawing programs.
I use have both versions and I like being able to use the same program across platforms. It allows for projects to be compatible across devices and the interface, while different, is familiar. You can gift the apps to a person through the corresponding stores, or just buy a gift card for the corresponding App Store (links for both versions on both operating systems can be found at the above link for Pro 6).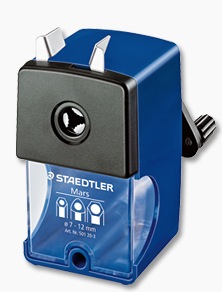 A Pencil Sharpener (?)
Here's one final hard-to-find item. When I say hard to find I mean it. I could only find this in the Great Britain eBay store for about $65 in US currency. When I bought this pencil sharpener – yes, I said pencil sharpener – back in college about twenty years ago I think I paid under $15. However, if you are buying for the person who has everything and don't mind spending over $60 for a pencil sharpener (hand powered by the way), you might want to look into the Staedtler Mars Rotary Sharpener. It is the best pencil sharpener I have ever used and I still use it to this day.
I remember seeing a classmate using it in art class and I had to have one. It feeds the pencil into the sharpener as you turn the handle and it gives a great sharp point. I know it sounds crazy, but like I said if you need a crazy gift and want to spend the money this is great. Is it worth $60, maybe not, but I thought I'd throw it out there.
So there you have it, my gift guide for the creativity people on your gift list this holiday season. Happy Holidays!