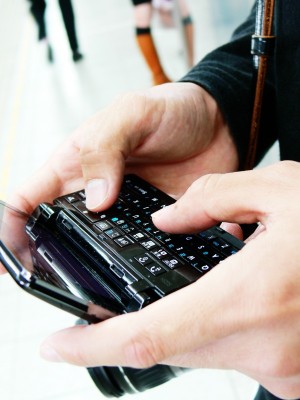 Depending how old you are, you may be able to remember the time where text messaging was the next big thing in the cell phone world. Before iPhones and other smartphones, text messaging was the preferred way of contact for millions of people across the country, and it was particularly popular with the younger crowd.
Today, we still see tons of people taking out their phones to tap a text message, but a new wave is coming that will soon render text messaging, or SMSing, obsolete.
In this article, my aim is to give you a little background about the text messaging craze, and at the same time review a handful of new age apps that will be the future of the messaging world in the not so far future. Enjoy!
Background
When texting first appeared, it was unbelievably expensive, and many people had trouble justifying the cost. The pricing schemes were new, and very unfriendly for people who wanted to text more than 100 times a month. As with any technology, the mobile carriers realized that the public had no idea how much it actually cost them to send a text message, so they charged as much as they possibly could for this new luxury. This meant that texting could cost anywhere from 10-25 cents per sent message and per received message (in most other countries, you only pay when you send, not when you receive). While this may not sound like much on paper, it wasn't very long before teens really began to adopt text messaging as a form of communication, and all of a sudden sending a couple of thousand text messages a month became a real possibility.
As you could calculate, sending even 1000 text messages in one month will cost an extra one hundred dollars on the monthly phone bill, and that doesn't even count the replies that are coming back. As texting became more popular, companies were pressured to offer more affordable plans, to which the companies slowly caved. At first, the next affordable plan came in small amounts of text plans. For example, you could purchase a 200 texts-per-month plan for about $10. This solved the problem for many casual texters, but for the power users, it just wasn't enough.
As time went on, and literally billions of texts per year were being sent (in 2009, 152.7 billion were being sent per month), companies end up folding under the pressure of their customers and offering unlimited text messaging plans for individuals and families alike. This really pushed text messaging over the edge, as for around thirty dollars, you could have unlimited texting for everyone on your family plan. Once this was available, virtually every person had a plan like this, and text messaging was no longer thought of as something that would "run up your bill."
Enter the smartphone
When smartphones began to take off somewhere around 2007, texting was still extraordinarily popular, and was even starting to penetrate the older age groups. However, like the smartphone did to many areas in the mobile world, it changed the way that people were communicating. All of a sudden, having a mobile internet connection was normal, and more feature rich messengers were coming into the market in droves. Instead of paying for a text messaging plan at all, people could pay solely for their internet connection and then use something like Blackberry Messenger (BBM), or apps that offered access to Google Chat, and other instant messaging services.
This has absolutely changed the way that people communicate, but not only because of the cost. Things like BBM, or now Apple's iMessage service offer a much richer experience than the simple short message service (SMS) could offer. Instead of having to differentiate between a MMS (Multimedia messaging service), and a pure text message, these full featured services allowed sharing of pictures, videos, and even location. Even better, they offered advanced options like read receipts so that you could see exactly when someone opened your message on their phone. This really enhanced the messaging experience, and gave users more with a generally similar interface.
New non-SMS messaging apps
As I mentioned at the beginning, I wanted to review some of the popular services that people are using today. I won't be reviewing something like iMessage or BBM, because for the most part, people know what those services are and what they offer. In this section, I will be focusing on some of my favorite text replacement applications that are available in the app stores for most smartphones.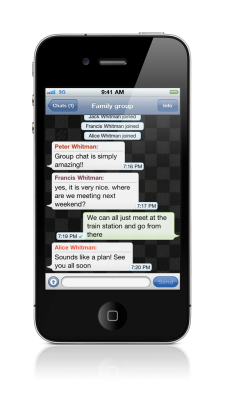 WhatsApp is a wildly popular text message replacement app that gives users the ability to 'text' message without paying for it. The system is basically a copy of something like iMessage or BBM, but it is a third-party instead of a program created by the phone maker. For this reason, there are more customization options, and all of the great features that these internet messaging services offer.
The Good:
Simple setup through your mobile carrier phone number
Checks your phone for friends that are using Whatsapp, so you don't need to know yourself
Free, free, and did I mention…free?
Lots of people use it so it is extremely easy to find and contact your friends (it asks permission to look at your contacts, and then shows you every person that is using WhatsApp)
The Bad:
WhatsApp messaging is the only option, they offer no other services
You have to have a mobile carrier and phone number, otherwise you cannot use the service. This means iPod Touch and iPad are left out in the cold
There is no web interface, so mobile is your only option (gets tiring on your fingers)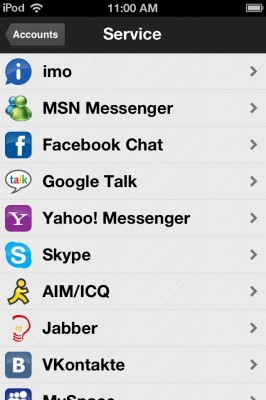 This feature rich app is relatively new to market, but it is probably the best offering out there if you are looking for connection to other messaging services. Unlike WhatsApp, you can use the service from non-mobile carrier devices. This is a huge advantage, because you don't need a telephone number in order to activate the service. You do, however, have to have an account on one of the services they cater to (which is a lot). Examples include: GTalk, Facebook, Skype, AIM, Jabber and even Steam for you gamers out there.
The Good:
Supports virtually every online chatting platform
Chats that you have online are automatically also accessed on that services web service. I.e. when you have a chat on GTalk on IMO, you can pick it up on GTalk on your computer no problem
Extremely simple, straight forward, and nice interface
So far, I have experienced zero connections, and it is by far my favorite app to connect to GTalk, ten million times better than defunct apps like BeeJive
Their support, updates, and customer service is involved and helpful
You can sign in under their web interface to connect to any of these chat services as well. I.E. if you don't want to use the GTalk interface, you can literally log in on IMO.IM and access the chatting service through IMO's own interface
The Bad:
Well, not too much. They have the functionality of WhatsApp (you get an IMO messenger account that works just like WhatsApp), while also having a connection to any other chat platform that you want. Their web interface is also top-notch, I honestly can't find a fault with the app.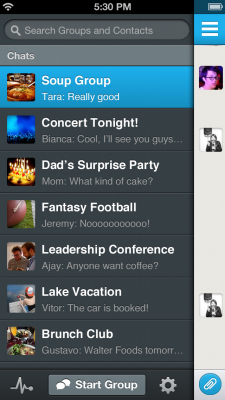 This service is very similar to the WhatsApp service. It offers a free alternative to texting that gives you rich features such as group chats, picture and video messages, and a more complex social system that allows you to like, and comment on your friends posts in the chat. (Fun fact, GroupMe was actually bought by Skype!)
The Good
It is a great messenger that is reliable, free, and makes it easy to talk to groups of friends. I use it daily to coordinate between groups of friends in different areas. For example, I have a 'Knicks' chat, a 'Business' chat, and a chat that only has my closest friends. We regularly talk in it, and it keeps us connected even though we live far away.
It has a great user interface that is sleek and updated, and they also offer an online web interface. This involves logging in online, but it only works with GroupMe conversations.
The Bad
Same as WhatsApp, the service is only available if you have a phone number and a service. Activation is all my text messages, and even the online interface assigns you a "phone number" for your web based interaction. The is less flexible than IMO, and leaves you having to come back to GroupMe
No integration with other chatting services
Wrap-up
I honestly think that all of the apps featured in this article are fantastic and bring a lot more functionality to your smartphone. I personally use them all, and think they all have their strengths and weaknesses.
IMO Messenger is the best option if you are looking for connection to other services, or if you know many people who use IMO Messenger. WhatsApp is useful for the same thing, free messaging, and being able to have the more advanced features like picture sending and read receipts. There are a ton of people that use it, so this one is often a necessity. GroupMe is also a fantastic app, and I prefer it to WhatsApp solely because of its online web interface. Unfortunately, my home group of friends are the only ones that use GroupMe, so I am left with WhatsApp for the rest of people. Then when I want to interact on GTalk, or Skype, I hop on over to IMO!
Happy chatting!