Antivirus software provides essential protection for your PC from virus, trojan, spyware, worm, adware, root kit and key logger infections. One of these nasty infections could expose key personal information or stop your computer from working. As powerful as the web is, it is also a very dangerous place. However, installing antivirus software does not mean you have to break the bank. Some of the best antivirus software are free and have what it takes to keep your PC safe.
If you're tired of expensive antivirus packages that slow your PC down then these free antivirus programs are the way to go.
AVG Anti-Virus Free Edition
AVG Anti-Virus Free Edition  is an excellent choice, if not the best for a free antivirus. AVG Anti-Virus Free is a full-fledged antivirus and anti-spyware tool, includes an email scanner, link scanner, scheduled scanning options, automatic updates, and more. AVG has been certified to remove 100% of in-the-wild viruses
Cons: Unfortunately AVG free has grown considerably in size, has very slow scan speeds and advertisements (but they can be disabled). AVG Free Edition does not provide adware/spyware removal (though it is available in the paid version of the product).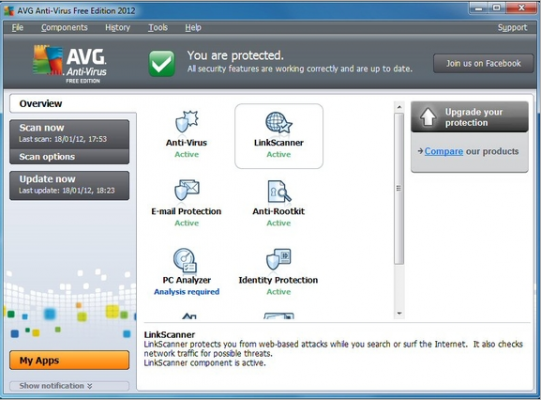 Avast! Free
Avast! Free Antivirus is improving its detection rates over the past few years "heuristics engine" and now ranks with the some of the best. Avast has the following features: full real-time capabilities including web, e-mail, IM, P2P and network shields, boot-time scanning, and a behavioral blocker. This program is also very light on resources.AVAST has been making this antivirus product since 1988 and is often cited as the most installed antivirus product. It also has a large user support community in case you need any help.
Cons: Average scores in PCMag's malware blocking test.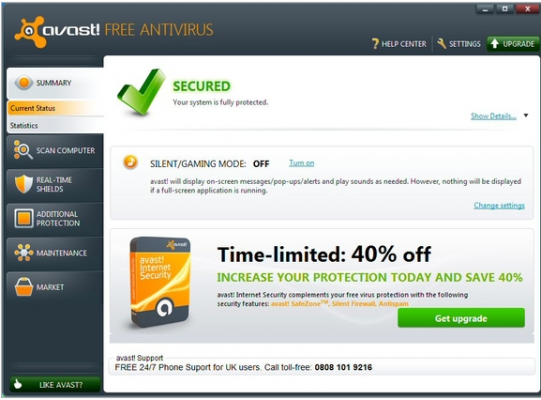 Microsoft Security Essentials
Microsoft Security Essentials is a another fan favorite with great detection rates, particularly for rootkits. Microsoft Security Essentials has very few false positives, is light on resources and is good at removal of existing malware. MSE is a great choice for average users because of the minimal user interaction required. It is directly from Microsoft and it's very easy to see if your computer is secure from threats: if the icon next to your clock is green, you're in good; if it's red, something is wrong.
Cons: The main downsides are the slow scan speeds and the lengthy amount of time it takes to quarantine malware.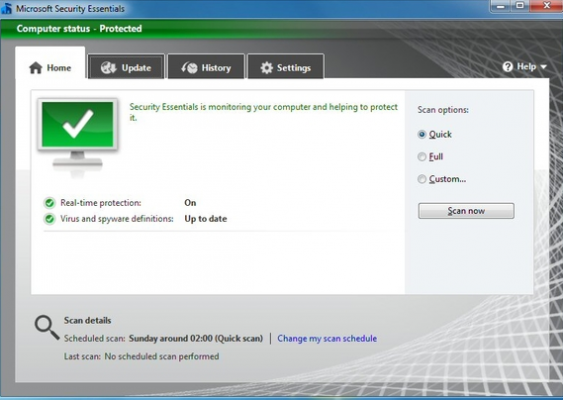 Panda Cloud Antivirus
Panda Cloud Antivirus  protects you from several kinds of malware threats – viruses, worms, Trojans, adware, and more – just like all the other free antivirus programs in this list. Along with Microsoft Security Essentials, it is an excellent choice for average users with a simple interface and completely automated features with automatic updating and removal of malware. What makes Panda Cloud Antivirus one of the top free antivirus programs is that it does its job from "the cloud" meaning the  antivirus work that typically slows down a computer is done on computers elsewhere on the Internet, freeing up your computer to work like nothing is happening.
Cons: As many free program installs Panda Cloud Antivirus tries to install a toolbar and set Yahoo! as your browser's home page during the installation process so uncheck the boxes before continuing if you don't want them.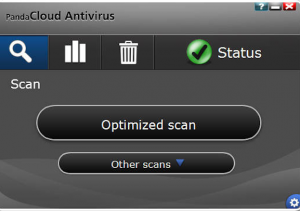 Avira AntiVir Personal Edition
Avira AntiVir Personal Edition protects you from viruses, Trojans, worms, spyware, adware, and various other kinds of malware, making it a fully functional anti-malware tool. AntiVir does not include web or e-mail scanning capabilities; this is only available in the paid version.
On installation, AntiVir schedules a daily full scan. You can, of course, change the schedule or add your own scheduled events. By default its configuration page shows only basic settings.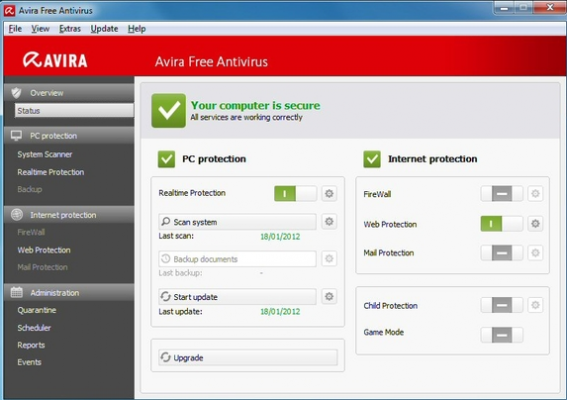 Cons: One con about Avira AntiVir Personal was the configuration you have to complete after installation which might be difficult if you're a computer novice.
Conclusion
A lot of time was spent comparing free antivirus programs and there are many more that are not on this list. Each individual may have a different need or use for antivirus software.
Unfortunately no package excelled in every area. Some were lightweight but less accurate, others were good at detecting malware but had a significant performance on your system.Picking a winner inevitably involves some compromises and may vary depending on your requirements.
After weighing the results the program that gets my first place vote is : AVG Free 2012. It has plenty of features and is lightweight making AVG Free 2012 a good all-round winner of the best free antivirus award.