The rise of touch-based gaming has brought on a lot of interesting takes on old games as well as completely new gaming ideas, but browsing through Apple's App Store for word games, there are really only four options: Scrabble, crossword puzzles, hangman, and the various clones of each. Even the popular Words With Friends is just a better implementation of Scrabble than the official Scrabble app.
It's not a category where you'll find much innovation other than developers pushing the limit on how many descriptors they can cram into the name of their game or social network sharing buttons they can wedge into the game interface.
Honestly, who isn't excited about "Angry Chicken Halloween Edition Phrase Friend Sharing Fun Time HD Free" that shares every word you play with all your buddies on Friendster?
For those of us who've been disappointed by the sorry state of iOS word games, there's a new game to get excited about. Letterpress by atebits, is an addictive word game that brings freshness to the category by focusing on simplicity and pushing strategy to the forefront.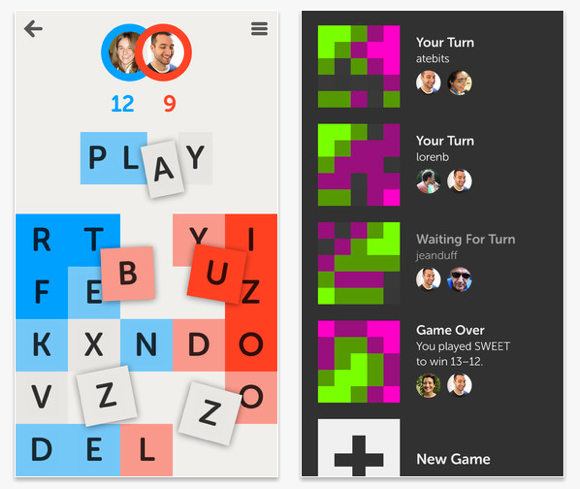 Gameplay
For Letterpress, atebits went back to the basics and built a stripped-down game that's similar to Scrabble in concept, but plays much differently in practice.
Players are presented with a 5-by-5 tiled game board from which they must assemble words in order to take control of tiles. Points are awarded for each claimed tile, but unlike Scrabble, tiles can be stolen, subtracting from the opposing player's score. You can protect tiles you've claimed by also capturing the surrounding tiles. The opposing player can still use your protected tiles during their turn, but those tiles don't award them any points and aren't shifted to their control.
This back-and-forth, tile stealing dynamic adds a layer of strategy to the game that levels the playing field between players with differing levels of vocabulary and helps prevent the one-sided play that sometimes occurs in Scrabble. If you're someone who normally doesn't fair well at word games, it's entirely possible to win Letterpress with strategy alone.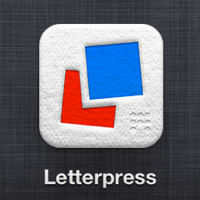 Matchmaking for Letterpress is done via Apple's Game Center, and so far this has been the source of most complaints about the game in App Store reviews. During peak playing times, submitting a turn or trying to start a new game will often result in a time-out error. This issue seems to have lessened somewhat since the game's release but still occurs often.
The glitches aren't enough to completely spoil the fun of the game, but it is annoying to sometimes have to wait until the morning after you submitted a turn to know if it actually made it through Apple's servers.
Another personal quibble, although minor, is the game's icon, which is perhaps the ugliest app icon ever created and seems out-of-place given the rest of the game's clean visual style.
Availability & pricing
Letterpress is available on iOS devices running version 5.0 or newer. The game is free but requires a $0.99 upgrade if you want to have more than two games going at once or additional color themes.
Final thoughts
When Apple launched Game Center in the fall of 2010 the consumer response was fairly lackluster. The app had an ugly, skeuomorphic design that mimicked a felt card table – something many iOS users have never even seen. There wasn't an easy way to get your Facebook or Twitter contacts into the app and once you actually had some contacts loaded, there really wasn't much else you could do.
Needless to say, developers haven't exactly flocked to Game Center, opting to build their own matchmaking services or leveraging third-party options like OpenFeint. Choosing to tightly integrate Letterpress with Game Center was a risk for atebits that will hopefully be rewarded as Apple builds up the underlying infrastructure for Game Center to handle the popularity of the game.