Keeping track of family members' busy schedules can always be a challenge, but it can be easier by sharing calendars via Apple's iCloud. Listed below are ways an iCloud-using family can stay connected.
Set up an iCloud Account
First make sure your device is running the latest iOS version
If you did not set up iCloud when you got your iPad, iPhone or iPod then select Settings –> iCloud and either enter your Apple ID or create a free Apple ID
On a Mac go to System Preferences and select iCloud to configure
Under iCloud Settings verify that calendar is selected On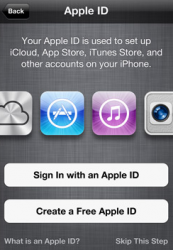 Sharing calendars with multiple iCloud accounts
Sharing calendars requires users to share and subscribe to each others' calendars.  These events may not be limited to just one family and can be shared with anyone who has an iCloud account.  Sharing all of the events that you add to a particular calendar can be accomplished by performing the following tasks:
Create a New Calendar in iCal by selecting File –> New Calendar –> iCloud 
Select the Calendar you created in iCal's Calendar List View on the left and then select the Share Calendar option from the edit menu
Type the invitee's email address in the Name or email address area and press Done
Click the pop-up menu with the invitee's name and choose access privileges (View & Edit or View Only)
For each person you want to share the calendar with, repeat steps 3 and 4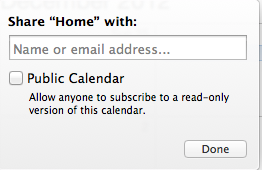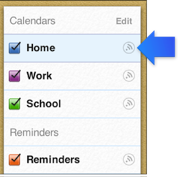 Invitation emails are then sent out from your iCloud account to the emails you entered in step 3. The recipient must click the join calendar button in the email for the shared calendar to appear in iCal.
Create calendar using a family iCloud account
Having a single family iCloud account is another way to have a shared family calendar.  Anyone can add any event at any time and everyone will see it instantly.  Once the initial set up and configuration is complete, this can be the easiest way to share a calendar.  Here is what you need to do to set up a shared iCloud account on your family's devices:
On the first or primary family member's device you need to create a new AppleID at and set up an iCloud account associated with that AppleID. See above on how to set up iCloud
In the Settings of each family member's iOS device (iPad, iPhone, iPod), add a new account using the AppleID and password you just created.
In the System Preferences of each family member's Mac, add a new account using the AppleID and password you just created.
On all devices, ensure that the Calendar option is turned on in each account's respective mail settings.
Once all of the devices are configured, you just start creating calendars and adding events as if it was your own personal account.  You can also use this one iCloud account to share notes, reminders and contacts.  Basically it keeps all of your family's events up to date under one account.
Upfront there might be a lot of events being added to the calendar, so there will be a lot of notifications that are sent to your device. To silence calendar alerts go to Settings –> Sounds –>  Calendar Alerts and select none.
Conclusion
With these options you should be able to manage your families busy calendar. You can select one of the options or use a combination of them based on your needs. Try one with your family to see what works best for you!