Recently, Apple released iOS 6 for iPods, iPads, and iPhones. Apple has stated that it comes packed with over two hundred new features. So how do you get this update onto your device? It is actually very easy to do.
First you need to determine if your device is compatible with the update. iOS 6 is compatible with:
Phone 3GS and newer
2nd generation iPad and newer
4th generation iPod Touch and newer
You also must have a wireless internet connection and/or be connected to iTunes on your computer to install the update.
How to update via wireless
First, make sure you are plugged into a power source. Next, open the Settings app on your device. The app might actually have a red one on the icon indicating an update is available. Tap "General" and then tap "Software Update."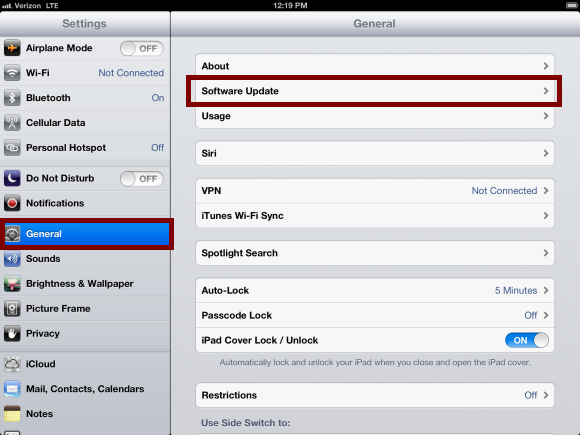 You should see a screen telling you there is an update available with a button to install the update. Tap that update button and wait. The update will download and install. It will probably take a while, so you should probably go run an errand and come back in about an hour.
Once the update is finished the device will reboot and you will go through a mini set up to get up and running in iOS 6. Make sure you have your iCloud information available, if you use iCloud (you can also skip these steps).
How to update via iTunes
Start by connecting your device to the computer (which needs an internet connection). If you aren't prompted to install an update you can manually initiate it. Click you device in the Library and go to the Info tab for the device. There will be a "Check for Updates" button on this screen. Click that and if your device is compatible you will be told an update is available.
Go through the steps and, just like above, this will take about an hour (your time may vary depending on internet connection speeds). Once finished, the device will reboot and you will go through the same procedure mentioned above.
Conclusion
So should you update? That is up to you. If you have an older device you might want to search the internet for reports on how your device works after the update. Some older devices might have issues – even though Apple has said it is compatible. Also, depending on your device, you won't get all of the new features.
Personally, I update my devices. I like having the latest and greatest (or not so greatest) new features. You, on the other hand, may be happy with the way your device works and it does everything you want it to do. Either way, now you know how to get your device up to date with iOS 6.