Many of the best video games are immersive. They pull us in, disconnect our brains from the real world, and let us pretend, at least for a while, that we are wizards, superheroes, or Italian plumbers.
Some game-makers achieve this effect by using fancy graphics or creating expansive, complex environments. Others, like Terry Cavanagh (who also created the excellent VVVVVV), skip all the fluff and just go straight to work rewiring your brain.
Cavanagh's new game, Super Hexagon, forcefully pulls you from the real world by requiring your full attention and brain capacity.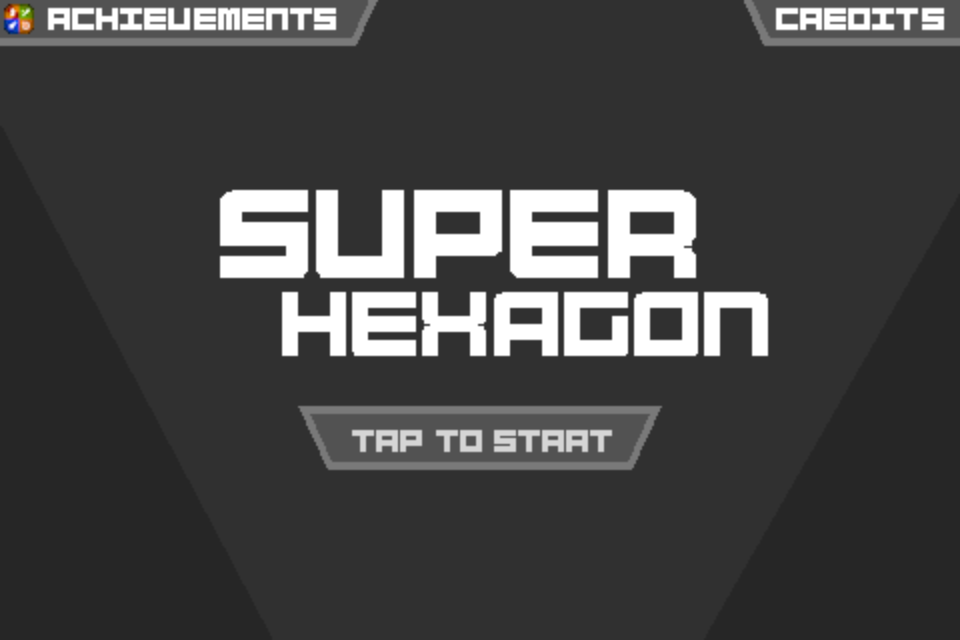 Gameplay
The premise of Super Hexagon is simple; so simple, in fact, that it's difficult to categorize. Cavanagh has labeled it as an action game, but that doesn't really seem to fit. It's more of a twitch-maze-dungeon-runner.
Your mission is to avoid the walls of a moving, hexagon-shaped maze. Success is measured by how long you survive. Sounds simple, right? Just watch the game trailer:
httpvh://www.youtube.com/watch?v=2sz0mI_6tLQ
When you first start playing, it seems impossible. My first attempt lasted only 2.26 seconds. The next several attempts weren't much better. After days of playing, I'm finally up to 25 seconds on Hard mode, the lowest difficulty level.
Acknowledging that the game isn't easy seems to be Cavanagh extending an olive branch to gamer egos. Easy, Medium, and Hard modes have been replaced with Hard, Harder, & Hardest (Hexagon, Hexagoner, & Hexagonest respectively). Three increased difficulty modes are available via unlocks.
There is a balance to the difficulty. Super Hexagon is tuned to allow for small improvements that help you feel that you are getting better versus just bashing your head against a wall. I also found that the less I thought about my moves and tried to anticipate incoming walls, the better I performed.
This is where the immersion part comes in. While playing around the 10 second mark, I usually start to feel a sort of twich-zen clear out my mind. It's a really odd feeling that reminds me a lot of my days playing Quake 3 Team Arena, when I'd hit "the zone" that unlocked seemingly inhuman speed and accuracy by filtering out everything but the dot of my scope and players' heads.
An excellent chiptune soundtrack helps round out the immersive effect and matches the game perfectly.
Availability & pricing
Super Hexagon is available on iOS devices for $2.99 through the App Store. PC and Mac versions are in the works with a possible Android port.
Final thoughts
"In my day, video games were hard. They required skill. They required chutzpah. They required finely-tuned reflexes and hand-eye coordination. You kids, with your plants and your zombies and your fancy hats – you don't know games. You're too soft."
– Me, as I hit "Try Again" for the thousandth time.