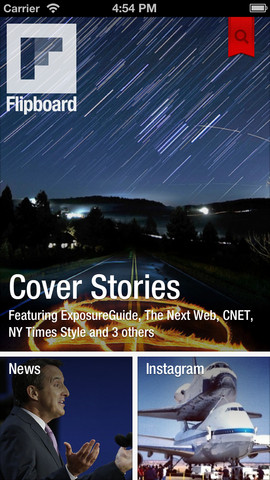 Every once in a while an app will be introduced that so thoroughly captures the essence of what a smart phone or tablet can achieve, that it will immediately change the way you use your device. Flipboard, the magazine style app, available on both iOS and Android systems, will so thoroughly revolutionize the way you receive the news that it will leave you wondering how you ever lived without it.
Flipboard is a news app that gathers your social media and news feeds and converts them into a personalized magazine. The app will take your Facebook, Twitter and Instagram feeds, along with any news category you choose and present them in a gorgeous magazine style layout.
The Flipboard app allows you to choose from your favorite news categories, such as sports, technology, business, film, science or virtually any other topic of interest. The app will then gather the top stories from various sites regarding each topic and present them in a magazine style layout.
httpvh://www.youtube.com/watch?v=My2RVT64Rlg
Flipboard is wonderfully designed, easy to navigate, and simply beautiful to look at. The app is available for both smart phones and tablets, but Flipboard is best experienced using a larger device. The whole purpose of a magazine style app is to have it feel like a magazine, and using a tablet will give you that experience. One of my favorite elements of the app is the ability to swipe your device to change the page.
When the iPad was released a few years ago, there was talk that it would change the way we consumed magazines. Unfortunately, up until now, that has not been the case. Most magazines are just a scanned copy of the print version. But Flipboard has found a way to turn your simple news feed into a beautifully designed and engaging experience. The app will show you news stories in medium-sized thumbnails, and will then enlarge once you click on them. Flipboard will even allow you to go straight to the original website the article was published on.
Overall, Flipboard is an engaging and well designed app and will completely change the way you receive your social media and news. It will probably find a permanent home on your smart phone or tablet and become indispensable for viewing news stories or social media updates. Flipboard is simply one of the best apps I have ever used. I cannot recommend it more highly. I would rate this app a 10/10.
Flipboard Image Gallery
[nggallery id=16]