As the popularity of Apple's mobile devices like the iPad continues to increase, consumers are looking at ways to replace their personal computers for an iPad. This frequently raises a question: Is there a way to connect an external drive to the iPad to transfer photos?
The short answer is no you cannot directly connect an external drive to your iPad; however, I have listed some alternatives below.
Option 1: Syncing to computer
The easiest way to store photos from iPad to external drive is to transfer the files to your computer first. Before setting up syncing, make sure the latest version of iTunes is downloaded. You can change your sync options at any time.
How to sync via USB
Connect the iOS device to your computer using a USB cable.
For Mac users select iPhoto, on the left hand side you should see the iPad listed under device. To Import select the photos and select import.
 On a Windows PC the autoplay window will pop up when the iPad is plugged in. Click "Import Pictures and Videos using Windows". Select Import.
Once all photos have been synced to your PC you can then plug-in your external hard drive to copy them over.
Option 2: Connecting to external hard drive
As mentioned above there is no direct connection between the iPad and external drive. However, currently on the market there are a few wi-fi drives that can be used in conjunction with the iPad.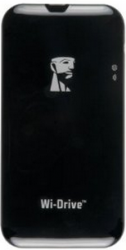 As an external hard drive, the Kingston Wi-Drive supports both PCs and Macs and iPad's out of the box, but its performance is about the same as a USB flash drive. The downfall is that it is about $60 for only 32 GB of storage.
Access to the drive is done over the 802.11 g/n protocol, just like your typical home wireless hub and can be shared with 2 people. This device is a great way to add storage to your iPad, but with the small amount of storage it is not a great long-term storage option.
If you are looking to transfer our photos from iPad to eternal drive without using a PC, then the Seagate GoFlex Satellite  is the best option. It has a built-in wireless-N access point (with a 150 ft range), to which up to three wireless devices can connect.
For the best experience you will need to download the iPad app Go Flex Media. The app can also download selected content from the GoFlex Satellite drive onto the iPad so that you can access them without having to use the drive, or when the drive is out of battery. The downloaded content can only be played and viewed via the GoFlex Media app, it can't be integrated into the iPad's library.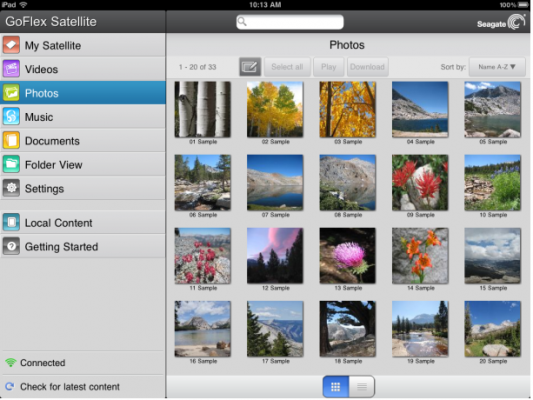 The GoFlex comes with 500GB of storage space for about $160, which is more expensive than the Kingston drive, but offers a substantial more storage space.
Conclusion
While you cannot directly attach an external drive to the iPad to copy photos, you do have a few options to perform this task. If you have a better method of getting photos over to an external drive feel free to leave a comment below!