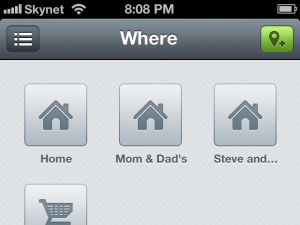 iOS's built-in Reminders app is pretty good, but not great. The location-based reminders are a bit time-consuming to set up and the whole app is pretty basic and doesn't offer up a whole lot of features. Checkmark, on the other hand, is an extremely intuitive reminders app that takes location-based reminders to a completely new level.
First off, it's extremely easy to set up any kind of reminder in Checkmark, and there's two kinds of reminders you can set for yourself: "When" and "Where." When, for time-based reminders, and Where, for location-based reminders. You switch between the two using When and Where buttons at the bottom of the screen.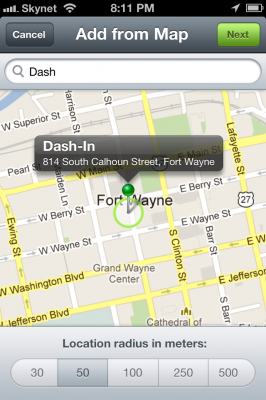 For "Where" reminders (location-based), you just add your most visited locations on the home screen, like work, home, the grocery store, your parents' house, the bank, etc. You can add a location multiple different ways: By using your current location, searching for a point of interest, importing an address from your Contacts, or manually entering an address. You can also choose a radius of a location, so that notifications will alert you within a certain distance that you specify. I found the radius feature to be extremely helpful, since I was able to know far in advance that I needed to pick up a few things from the grocery store before I got near it.
After you add a location, tap on it to add a location-based reminder for that specific place. The next time you arrive there or pass by, you'll get a notification reminding you of the task you need to get done at that specific location. Any location you add will automatically be saved to the app's homescreen for future use.
"When" reminders are a little more basic. When creating a reminder, you simply enter in a title (and some notes about the reminder if you wish) and choose the day and time that you want to be alerted. When it's time for the reminder to be delivered, you get a notification.
There are also other small features that can be really handy for a lot of users. You can sort your location-based reminders by distance, and even delay notifications until after you've been at a location for a certain amount of time.
The only downside that I see with Checkmark is its lack of integration with iOS and OS X. Checkmark is only available on the iPhone, so there's no syncing between multiple devices. Checkmark also doesn't integrate with Siri, so you can't just quickly add a reminder in Checkmark using Apple's virtual assistant.
However, Checkmark's location-based reminder system is leaps and bounds above Apple's offering, and I'll gladly take that over any kind of integration with Apple's ecosystem.
Checkmark is available in the iTunes App Store for $2.99.