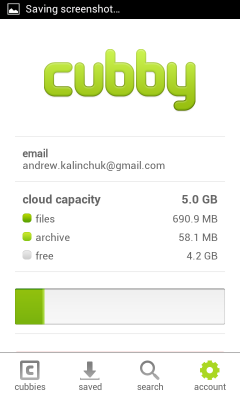 When I first heard about Cubby's unlimited storage, my immediate reaction was "I must have it." When I found out that "unlimited storage" meant computer-to-computer syncing I was less enthused. I forgave them, however, because I concede that offering unlimited cloud storage through a free service is foolish at best. And it wasn't long before I found new reasons to love Cubby.
Unlimited computer-to-computer storage
I soon realized Cubby's true potential as a power user's best friend. Basically, with Cubby, you can sync an unlimited amount of date (regardless of file type) between two computers as long as both devices are connected to the internet.
File sync can happen in a couple of ways. Firstly, there is the option to create brand new "Cubbies" and label each one as you please before filling them with files. A second option is to merge the Cubbies with folders that already exist on your Mac or PC, so instead of having to curate two Music folders you could simply merge your Music folder with a Cubby labelled Music to share files more seamlessly between your desktop and/or laptop.
I have been using Cubby to keep files organized between my personal MacBook Pro and my less-used (and ancient) HP laptop. The only annoyance so far has been keeping both computers turned on and connected to the internet. And even that seems a small price to pay for easily accessing my files on both devices.
5GB of free cloud storage
There's more to Cubby than just syncing between computers. Cubby has a feature set similar to other cloud storage services like Google Drive or Dropbox: 5GB of free cloud storage and a home folder – called "My Cubby" in this instance – to hold all those files you'll inevitably save there.
As for uploading, I found that Cubby synced my files fairly fast and when put head-to-head against Dropbox there was little difference in speed. However, Dropbox places a helpful syncing icon on files that are in the process of uploading and replaces it with a checkmark once the sync is completed. Cubby has no indication of syncing progress when viewed in the Finder or Windows Explorer window and can only be shown through the desktop application.
Since Cubby is still in its beta phase, it's hard to tell what improvements (if any) they will make in this regard. After all, we're talking about a brand new piece of software competing with a fairly senior product. That being said, however, it seems like a fairly standard feature to include. Yeah we're talking to you, Cubby makers.
Cubby is still "invite only" during its beta phase, but you can request an invite if you're interested in checking it out. There are apps available for Mac, Windows, Android, and iOS (and screenshots below).
What do you think? Would you use Cubby over alternatives like Google Drive or Dropbox?
[nggallery id=15]