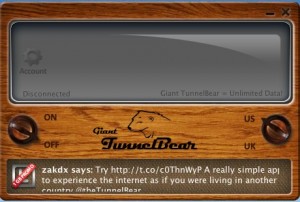 As someone who lives and works between two countries, I am the typical target market for the many companies offering locational VPN services. These VPN services allow those browsing the web in one country to appear as if they're in a different country.
There are various reasons why someone might do this, but one of the main reasons why most people use VPN services is so they can access streaming TV content that would otherwise be blocked in their country.
One such VPN service is a snazzy little application called TunnelBear. Available for both Mac and Windows, TunnelBear is a very straightforward app with just two controls — an on/off switch and a switch to select between US and UK VPNs. These controls are laid out on a rather old-looking funky transistor radio background.
How it works
TunnelBear can be downloaded for free, but it's limited to only 500MB of monthly bandwidth, which will disappear quickly if the service is used to watch streaming media. The free version gives everyone a chance to try the program out, but anyone using it frequently will want to pay for a monthly or annual subscription ($4.99/month or $49.99/year). TunnelBear also offers an extra 1GB of traffic to anyone who promotes the app via Twitter — a pleasingly innovative way of spreading the word. 
The program itself works almost faultlessly. Start the program, select US or UK, switch it on, and within ten seconds or so you have a US or UK IP address that will allow you to access anything you could access if you were in that country, including regional TV-on-demand services, cloud gaming platforms and region-locked YouTube content.
Is it legal?
The legality of using these kinds of services is certainly a grey area to say the least. For example, in the UK, citizens need a TV license to watch broadcasts from the BBC. If a UK citizen and license-payer were to travel abroad on holiday and use TunnelBear to watch BBC iPlayer, it would simply seem nonsensical for this to be illegal. However, those wishing to ensure they stay on the right side of the law may want to check legalities with the media services they plan to use. These VPN services do work, and many of them are promoted specifically as being for the purpose of watching streaming media, but his doesn't always mean it is permitted.
Conclusion
TunnelBear is a great app and it has its uses beyond just viewing media, such as the ability to search Google in another country (useful for web and SEO work). The only problem you may experience is a flaky internet connection if you quit the app while it is still connected to the UK or US. However, this is a minor complaint for a piece of software that does what it is intended for, and does it very well indeed.