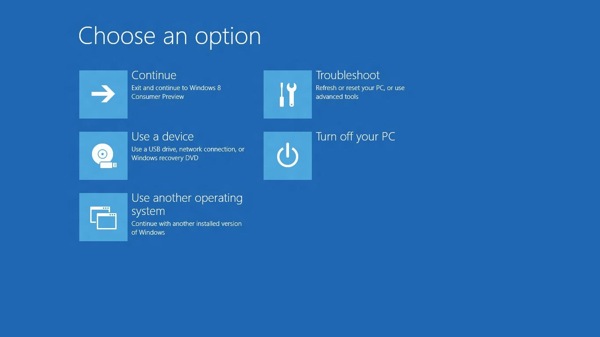 We previously told you that Windows 8 could manage a cold boot in eight seconds flat, and that still holds true, but now there are reports that an SSD-equipped PC can manage it in under seven seconds. It's not a huge difference in boot time, but it does create a minor and rather curious problem. Mainly, the user no longer has enough time to interrupt the boot menu.
Chris Clark, program manager at Microsoft's User Experience team, explains in a Building Windows 8 blog post that a mere 200 millisecond window is all the time available to users if they want to make changes to a PC's boot setup.
A new method
Since the Windows software and general computer hardware have become too fast for us puny humans, the days of reading "Press F2 to enter setup" are over and Microsoft recognizes the need to offer an alternate way of accessing the familiar boot menu. They found their top tappers could only manage about a 250ms frequency and catching that elusive 200ms opportunity was based a lot on chance. In other words, the added speed became the opposite of user friendly.
In response, the team came up with three solutions that work together to solve the issue. Clark notes in his post that "no one should need to learn how Windows is built" and the team wanted the new boot options to "just work". A refreshing choice of words as Windows is notorious for requiring complicated work arounds for simple problems depending on hardware, software version, and general computer skills of the user. But keeping with their new, simplified design aesthetic Microsoft has decided to make a single menu for every boot option.
How it works
Microsoft's solution is a three-pronged approach:
The various boot settings that have previously been scattered from one end of Windows to the other will now be available in a single boot options group
The menu will automatically appear whenever Windows is prevented from booting up correctly
Microsoft is providing the user with plenty of different ways to bring up the new menu at will.
Basically, although you will no longer be able to access the boot menu from the start up screen, you'll still be able to check it out once your PC has finished booting up. Specifically, you can bring up the menu through Advanced startup on the General tab of your PC's settings. From there, you can choose to Restart now and choose a new start up volume during a reboot.
There's an even quicker method built-in, simply holding down the Shift key while click Restart in your computer's shutdown menu will cause Windows 8 to reboot into the boot menu as well.
One important note is that these changes are only applicable to newer PCs with UEFI BIOS. This exclusion, according to Chris Clark, can be chalked up to the speed restricitions of older hardware, meaning they will spend enough time booting up for a user to interrupt with the F8 or F2 keys.