Forgive me for sounding like a fanboy, but my iPhone is one gadget that has continued to wow me long beyond the initial honeymoon period.
I have come to take many features for granted – reliable email synchronization, decent Facebook and Twitter apps and a really good camera being just three. It's the new apps I keep discovering that continue to piqué my interest.
On a recent trip to London I discovered one that impressed me so much that I began to bore my friends by going on about it.
Introducing Hailo for iPhone and Android
During my London business trip, I found myself in need of a taxi. Aware that there are plenty of apps for that, I Googled "London taxi app," and ended up downloading a fairly new app called Hailo.
After quickly registering my details, the GPS found my location and told me that there were several cabs less than ten minutes away. Two taps and one was on its way.
My iPhone told me the registration number of the taxi and showed me a little photo of the driver. I was then able to follow the car's progress through the London streets on a map, not needing to leave the comfort of the pub until it was right outside! The driver was similarly able to track my location from the other end of Hailo's system.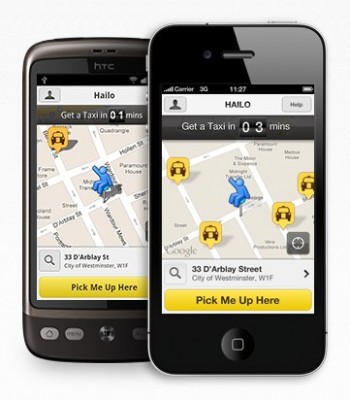 Upon arrival at my hotel, I paid the driver. By the time the hotel's automatic doors had welcomed me in, my iPhone's vibration signified the arrival of an email, which turned out to be my receipt.
I was in London for about a week so had plenty of other opportunities to put Hailo through its paces. On all but one occasion, it had a taxi to me within 15 minutes. The only time it failed was during a busy Saturday night peak period. We were with a group of friends quite far out from the centre of town and needed two taxis. I persuaded a friend to download the Android version of the app. He did – but the immediately managed to snag the only free car in the area leaving me without transport!
The fact that you can see the taxi approaching on the map can be entertaining. One night I booked a car from a client office and the driver got lost in a one-way system. I was able to see him looping around in circles before finding his way to where I was waiting.
Hailo charges no fees other than the taxi meter price, which in London differs from some of the telephone services where the taxis clock up time on their way to you. So effectively, using Hailo is exactly the same as hailing a cab on the street – except you don't have to set foot on the street until the car is there. This has obvious benefits for the safety of lone travelers and those moving through questionable areas late at night.
At the time of writing, Hailo is available in London, Toronto, Chicago and Dublin. Similar apps are available in other cities. Whether these work as flawlessly, I don't know – but I would love to hear. If you've tried any, please tell me about them in the comment box.