Microsoft's Small Business Server features prominently in my life as an IT consultant. Its combination of Windows Server, Microsoft Exchange and SharePoint at a low price-point makes it a compelling proposition for smaller firms.
Dislike of Windows Vista has resulted in many of my clients continuing to maintain systems running SBS 2003 and Windows XP. Now these products are approaching the end of their support lifecycle, many of them are migrating to SBS 2011 and Windows 7. Now that I have completed the first of these migrations, I am in a position to present my first impressions.
First Impressions of Small Business Server 2011
As with previous incarnations of Small Business Server, SBS 2011 is designed to appear easy to use. In many ways it is, with wizards designed to make frequent tasks such as adding users, configuring software updates and sharing printers simple and intuitive.
As with earlier versions, however, these wizards are running on top of Microsoft's complex and sophisticated Windows Server and Exchange technologies. While much of the server configuration can be done using the wizards (accessed via the SBS 2011 Administration Console), some essential tasks throw admins way into the server configuration deep-end.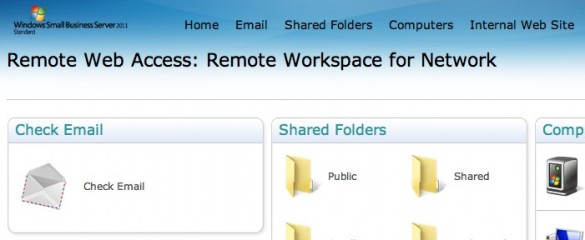 As an example, I encountered a complicated feature when I increased the maximum incoming email size from the default. This landed me at the Exchange 2010 command line interface – daunting enough for someone raised on SBS 2003 – and I imagine utterly impenetrable for a non-technical person!
New Features for Admins
The Administration Console provides access to all the key server features and maintains an ongoing "traffic light" style alert system which informs admins of any issues with software updates, security and backups. These alerts link in with daily emails sent to the people in charge of the system to provide quick notification of problems.
I particularly like the fact that SBS 2011 appears to place emphasis on any significant errors listed in the Windows event logs, which encourages administrators to proactively investigate all problems in the continuing quest to obtain green "OK" statuses across the board!
Adding new PCs to the SBS 2011 network is a slick process with better integration than previous versions. For example, if an administrator grants a user delegate access to a mailbox, Outlook picks this up and adds the mailbox to their Outlook folder tree with no client configuration required.
New Features for Users
From a user's perspective, there is a fair amount of new functionality in this incarnation of Small Business Server. How much users will notice, however, depends on how much of the old functionality they were making use of.
The new remote access portal now provides access to shared files via the Web browser – a valuable enhancement in the "Dropbox age," and is a compliment to the existing options of remote controlling an office PC, or accessing email via Web-based Outlook. The richly featured Exchange 2010 Outlook Web App now provides this.
At the desktop level, less has changed. Essentially, users access shared files and interface with Exchange via Outlook. SharePoint looks shinier than before, but in my experience, few small businesses actually make much use of it.
Conclusion
In a world where many small businesses are considering a move to the cloud, there's still a place for Microsoft Small Business Server. It is hugely configurable and delivers enterprise-level IT services at a reasonably competitive price. Businesses just need to make sure they have someone reliable to look after it – there's still a lot of complexity hidden behind that shiny admin console.