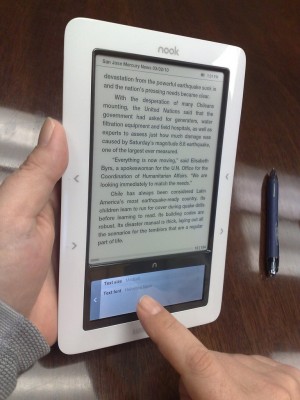 In what may be considered an interesting and somewhat odd move considering past events, Microsoft has announced that they will be investing $300 million into a "strategic partnership" with Barnes & Noble to work on the future of e-reading by creating a whole new subsidiary of Barnes & Noble that will focus on all things Nook as well as its education/college business.
With Microsoft's $300 million investment, they'll own a 17.6 percent stake in the new business (valuing the new company at $1.7 billion), while Barnes & Noble will own the remaining 82.4 percent.
The first thing on the agenda so far is a Windows 8 Nook app, as well as working on spreading and popularizing the Nook Study software on Microsoft's platforms. Just from these two things alone, Microsoft desperately wants content on their platforms. It seems they want their own answer to Apple's iBooks and to offer Windows users an alternative to Amazon's Kindle Fire.
However, this could end up being a bitter mistake for both Microsoft and Barnes & Noble if things don't go even remotely well. Microsoft has a recent history of catching up to established markets by siding with mediocre companies (their partnership with Nokia, for instance). Microsoft's partnership with B&N, who – let's face it – is a lesser-performing company in the e-reading market, could become a complete flop if not done right, especially when going up against powerhouses like iBooks and Amazon's established ecosystem.
Then again, Microsoft lacks any real strategy to compete in the e-reader business in the first place, so this partnership with Barnes & Noble is certainly a good first step if they really want to compete. It will allow them to get more content onto their platform — especially Windows 8 tablets.
In any case, it'll be interesting to see what consumers will get out of this once the competition is in full swing.
Image Credit: George Kelly