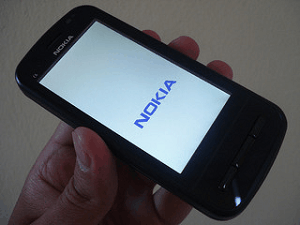 Nokia has finally succumbed to pressure from the leading smartphone handset manufacturers and lost its crown as the leading cellphone vendor in the world. Samsung has taken its place at the top, while Apple remains in third place. Focusing in on just smartphone sales reveals Apple is still number one, with Samsung a very close second, and Nokia a long way behind in third.
This sets up a couple of interesting questions that will be answered over the coming years and beyond: Who will win in the titanic battle between Apple and Samsung for smartphone sales? Will Nokia be able to recover from this position, with Microsoft as its partner and Windows Phone as its operating system of choice?
Nokia Knocked Off Perch
For as long as I have owned a mobile phone Nokia has been the number one seller of the form factor. It has held the number one spot as mobile phone vendor since 1998, and in that time managed to see off plenty of competitors. Unfortunately that reign at the top of the pile has now come to a crashing end, with the news that Samsung has succeeded it as king.
According to data from IHS, Nokia's handset shipments dropped from 114 million in Q4 2011 to 83 million in Q1 2012. That's a drop of 27 percent. To be fair both Samsung and Apple also took a hit, with drops of 13 percent and 5 percent respectively. But that leaves them on 92 million and 35 million, meaning Samsung has hurdled Nokia to take the number one spot.
Apple Vs. Samsung
The smartphone sales figures are also interesting. Again, all three have taken a hit, with Apple dropping from 37 million to 35 million, Samsung from 35 million to 32 million, and Nokia from 20 million to 12 million. Apple has actually increased its lead over Samsung during the last quarter.
However, that doesn't mean the titanic battle is over. Far from it, in fact. Samsung is expected to unveil its latest smartphone (almost certainly the Galaxy S III) at an event in London on May 3. Apple will then launch the iPhone 5 by October, although there is increasing speculation that it could arrive much sooner, possibly during WWDC in June.
Either way the scene is set for a huge fight between the two leading vendors of smartphones. The Galaxy S III is garnering almost-iPhone levels of anticipation and speculation, and I suspect many Android users will be looking to upgrade to it at the earliest opportunity.
Any Chance Of A Comeback?

This leaves Nokia in an awkward position. It has finally made the move to smartphones, partnering with Microsoft to offer Windows Phone on all its handsets, but reception to both the handsets and the OS that powers them have been mixed. To say the least. If Nokia wants to gain ground back on Samsung then it needs not only to produce compelling hardware but also for Microsoft to keep plugging away with Windows Phone. Perhaps Windows Phone 8 will be the turning point.
Image Credits: John Karakatsanis, Cheon Fong Liew, Maurits Knook