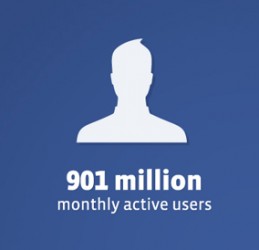 Facebook recently disclosed that they have 901 million users.
Nine. Hundred. And. One. Million.
They dropped this little statistic in their amended S-1 filing earlier this week, along with other small statistics such as that Facebook users post 3.2 billion comments per day and upload 300 million photos per day as well. They also lay claim that 125 billion friendships have been formed so far on Facebook and 526 million of the 901 million users (over half) were described as daily active users in March. If that doesn't get your pot stirring, note that 488 million users used Facebook on their smartphone and/or tablet during March as well.
Gregory Lyons, a senior analyst at iCrossing, predicted that Facebook would hit one billion users by August. Now that they have reached 900 million, one billion seems like a plausible number to hit by summer's end. However, based on the most recent trends, I believe it might not be until October when we see Facebook hit one billion users.
In February, Facebook said they had 845 million users when they filed their IPO paperwork. They now have just over 900 million. So in almost three months time, the social network gained over 50 million users. Based on this, it will take Facebook roughly six months to gain 100 million users and hit the one billion mark, which would be around October of this year.
To give you an idea on just how massive Facebook is and to clarify their stance as the largest social network, Twitter (the 2nd-largest social network) currently has over 560 million users, but as of March, they say that only 140 million of those users are regularly active, compared to Facebook's 526 million regularly active users.
You can read Facebook's amended S-1 filing in its entirety here, but be warned: it's really long.