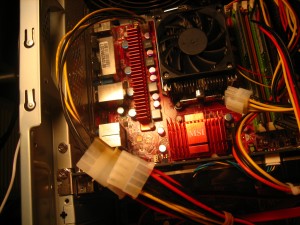 Look, not every computer you build has to be a tricked-out gaming rig with flashing LEDs and a complete water-cooling system. Some of us just need a machine that we can use to get work done in an efficient manner. This is where my heavily thought-out budget build comes into play. And we're not talking about really cheap APU crap — we're going all-out Intel 2nd-gen Core i3 that will even have enough room for some expandability in the future, all for under $500.
This budget system will serve you well for most everyday tasks, as well as other more slightly intensive activities like some gaming, streaming movies and music from the web, and even bigger projects like editing photos and home movies.
This build assumes that you already have a mouse, keyboard, and monitor lying around to use with your new system and that you'll only need the basic components to get up and running. Also, I'm assuming off-the-bat that you already know how to build a computer from scratch, but if you don't (and there's no need to be ashamed), Lifehacker has a great guide that's perfect for the computer-building novice.
So without further ado, let's take a look at the components that will make up this sub-$500 workhorse.
The Case and Power Supply: Rosewill R103A Mid-Tower Case w/ 350W Power Supply – $39.99
The R103A isn't an Antec Twelve Hundred by any means, but it certainly will get the job done, and the included 350-watt power supply will give us more than enough juice to power our budget build.
The Motherboard: ASUS P8H61-M LE/CSM Micro ATX Motherboard – $70.99
Asus is certainly a trusted name in motherboards and the P8H61-M is no exception. It's a budget board that will serve you well throughout the life of your machine. It sports six USB ports, four SATA ports, a PCI Express slot (for a future graphics card), and DVI and VGA ports for the integrated graphics.
The Processor: Intel Core i3-2105 3.1GHz Dual-Core Processor – $134.99
I went with Intel for this budget build, but you're free to substitute in AMD if you choose. However, the Core i3-2105 is quite a bang for the buck. The 3.1GHz dual-core chip is a solid processor that will certainly be able to keep up with most tasks you throw at it, and the HD 3000 integrated graphics will play most basic games that you'll want (From my experience, the HD 3000 graphics play Portal 2 without a hiccup).
The RAM: Crucial 4GB DDR3 1333 Dual Channel RAM – $27.99
4GB is the sweet spot for memory in most budget builds, but it's so cheap nowadays that you're free to upgrade to 8GB if you so choose, just be aware that the motherboard I chose only has two DIMM slots, which shouldn't be too much of a problem here — 2x4GB memory kits are very common.
The Hard Drive: Western Digital Caviar Blue 320GB Hard Drive – $74.99
Unlike RAM, hard drives are ridiculously expensive right now, but prices should go back down to normal before year's end. I obviously would have gone with a larger hard drive if the budget was a little higher, but 320GB is enough room for the main system files, all of your programs, and a selection of media files.
The Optical Drive: Samsung 22x DVD Burner – $16.99
Selecting an optical drive is pretty simple and they're really cheap: Just select something that works for your needs, but because of the low prices, there's no reason not to go for an all-out DVD burner just 'cause.
The OS: Windows 7 Home Premium 64-bit – $99.99
A bulk of the price for the budget build is from the operating system. I chose Windows 7 by default since that's what most of you will probably run, but feel free to save yourself $100 and use Linux or try your hands at a Hackintosh with a $30-copy of Mac OS X Lion.
Total price of the budget build: $465.93
Conclusion
As you can see, we have a bit of room to work with as far as our $500 budget. There's $34.07 left over. That's not a lot of money, but you could use it to upgrade the hard drive to a higher capacity or double the amount of RAM like I mentioned earlier.
Obviously, don't take my word for everything I suggested here. I know everyone has their own opinions on what should have been included and excluded. Also, don't feel obligated to use only Newegg/Amazon to buy your components. Feel free to use another e-tailer, especially if you can find the components cheaper there.
If you have any questions about your own budget build, you can leave a comment below or you can visit the many online resources available to you. Tom's Hardware Forums is just one place that can provide you with a lot helpful feedback.
Image Credit: Iwan Gabovitch