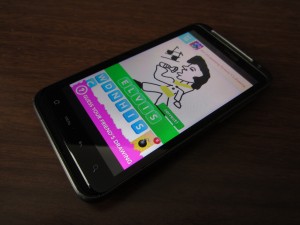 Since its release in February, Draw Something has been nothing but a social-gaming sensation. In the first five weeks of availability, the game saw over 20 million downloads and currently has well over 35 million downloads. To give you an idea of just how many downloads that is, Instagram has around 27 million users and Foursquare has just over 15 million (which took three years to get). Over one billion pictures have been drawn on Draw Something with 3,000 drawings being uploaded every second. The game is so popular that it beat Words With Friends to become the most popular Facebook game.
If you don't know what Draw Something is, it's a two-player-only game where you…yes…draw something and your opponent tries to guess what you drew and vice versa. It's sort of an interesting twist on Pictionary. You can also earn coins and such, and there's different settings that you can change and cool statistics that you can look at. It's the type of game where you have to play it yourself to truly understand it.
Developer OMGPOP surprisingly hasn't spent a dime on marketing the game since it's launch on February 1st. The free, ad-supported game is apparently generating revenue of six figures every day. It's so popular and is generating so much revenue that Zynga, developer of many popular Facebook games including FarmVille, decided to scoop up the game, as well as the entire OMGPOP developing studio last week for a cool $180 million. Twas a smart move on Zynga's part if I do say so myself. Look for them to be milking the social drawing game for all it's worth and then some.
The story of Draw Something and developer OMGPOP is quite a remarkable one, going from an almost-broke start-up to an overnight millionaire of sorts. It just goes to show you what the internet and its users are capable of.