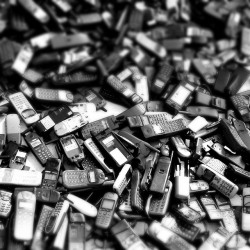 You might have heard of a little term known as Android "fragmentation." This is a term that, in this case, means there are many kinds of hardware surrounding the Android operating system, as well as the many different software versions floating around on all of these devices, including custom versions exclusive to some manufacturers (HTC's Sense, Samsung's TouchWiz, Motorola's Motoblur, etc.).
You've probably heard that this can pose a problem for app developers trying to cater to every Android device. It's not just a problem though, it's downright confusing and frustrating.
I'm sure you know how it is: Android phone manufacturers have tons of different phones. It's to the point now where it's getting hard to keep track of new models that release. I can certainly attest to this when I tried to follow all of the news coming out of this year's Mobile World Congress in Barcelona, Spain. So many new devices were announced and unveiled that I felt extreme remorse for all tech journalists who were assigned to cover the event.
Phone makers get so caught up on pure sales and numbers that they start to lose focus on…well…focusing. All of these manufacturers don't just have a few Android phones in their lineup, they have dozens.
This wasn't the plan, though, when Android was beginning to come into fruition in 2007. Google had planned to only make one device that would be refreshed every year or so and push it to all carriers, similar to Apple's current strategy with the iPhone. Obviously, this didn't work out too well. Yes, Google still makes their one device (the Nexus), but other manufacturers have jumped on board with not only one device, but many.
A similar situation is happening (and has always been happening) with Windows computers. Manufacturers like HP, Dell, Toshiba and Asus have dozens of models of computers, all slightly different from one another. They even go so far as to give them ridiculous model names. Asus' Eee netbook series is extremely guilty of this. They have numerous netbook models, all with a ridiculous model number (T101MT is one of them). This makes it extremely confusing and frustrating when it comes time to shop for a laptop and I totally don't blame those that give up and just buy a MacBook Air instead.
Options are great, don't get me wrong, but it's counter-intuitive when someone puts thirty different choices in front of my face and tells me to pick only one. Wouldn't it be much easier and more helpful if those choices were narrowed down to a more-manageable four or five?
Image Credit: Matthijs via Flickr