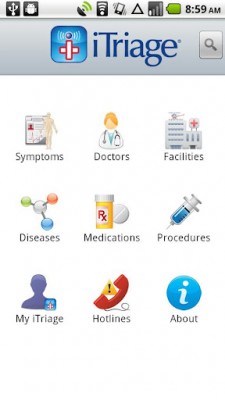 There are mobile apps that will help you improve your  health, but what about when you're sick or injured?  You need to know what is wrong with you and where to get it treated (probably more important).
The iTriage app for Android, iOS, and Palm will help you diagnosis what ails you. If you don't have a smartphone, you can still access the information on the web. It starts out with a diagram of the body and offers a list of diagnoses. Each comes with:
Descriptions
Causes
Treatments
Images (which may cause some queasiness)
Links to YouTube videos
Directions to find medical help
Sources of more information
I'm not a doctor (but I wish I played one on TV) so I cannot offer guidance on whether the medical information is accurate or not. But iTriage is tremendous help finding medical care. It has databases for:
Physicians
Hospitals
Clinics that treat minor illnesses
Emergency and urgent care centers
Community health centers (Offering subsidized care for low-income patients)
Pharmacies
Each listing has contact information and a map. This is a valuable tool for anyone in a new area who needs anything from a new primary care physician to an emergency room. You also can request an appointment with healthcare providers you find with the app.
All listings, medicine and disease information can be saved on your phone. There also is the ability to save your insurance information. The app may be able to use the information to customize the advice hotlines you can call to get more information on your condition or finding medical care.
Conclusion
iTriage is a handy app when researching medical information, but I wouldn't use it to turn my phone into a medical tricorder and play doctor. The physician and hospital finding functions are extremely useful, but it wasn't very useful for finding a primary care physician in my area.
Warning: Excessive use can lead to cyberchondria.