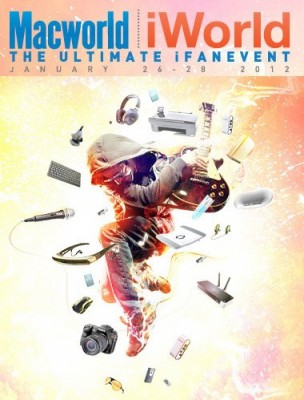 Back in its heyday, the annual Macworld conference was the event that everyone looked forward to because Apple would be there unveiling their next product. Macworld was where the  iMac, iBook, iTunes, Safari, the iPhone, and the MacBook Air were announced to the public. Since 2009, which was the last appearance that Apple made at Macworld, the annual expo hasn't been the same.
For starters, the 2012 Macworld has been renamed to "Macworld | iWorld" to focus more on the iOS platform along with the Macintosh platform. And event general manager Paul Kent even said that this year's expo is "not a trade show – it's a lifestyle event." Whatever that means.
Even with the attempts to keep Macworld as relevant as possible, attendance hasn't been the same. The 2007 Macworld saw 44,000 attendees. That was the year that Steve Jobs unveiled the iPhone. At last year's Macworld, the attendance was down to 22,000 — exactly half of the attendance from four years earlier. Is it because Apple hasn't been there recently to show off its newest toys? Probably so.
However, some vendors say that the lower attendance isn't such a bad thing. Veteran developer Christopher Allen says that recent Macworld expos have given smaller companies more of an opportunity to get their name out:
At its height, Macworld was starting to take on some of the challenges of CES, where it was getting so huge it was hard for a small company to get visibility. But now that we're a smaller Macworld, it might be a little easier to get the word out."
Still, this years Macworld is filled with nothing but accessory vendors and application developers. Don't get me wrong, the accessories are definitely cool if you filter out all of the inevitable crappy ones, but there hasn't been anything new ever since Apple was there — not even accessories that use Apple's latest Thunderbolt technology. Well, except one: Western Digital's first Thunderbolt drive, the MyBook Thunderbolt Duo. It made an appearance at CES earlier this month, but details were scarce at that point. It's back at this year's Macworld, but it still doesn't have a release date or a price.
Maybe I'm being too harsh on Macworld. It does, in fact, take place shortly after CES, which makes it seem like somewhat of an afterthought, so maybe the lack of innovation and new products is expected at such an event. One thing's for sure, though: Macworld is definitely not a news-worthy event any more. No longer will you see journalists lined up outside readying their laptops for a rigorous live blog that's to come. It's now simply a centralized place for companies and vendors to hawk their products to all of the Apple iFans puttering around.